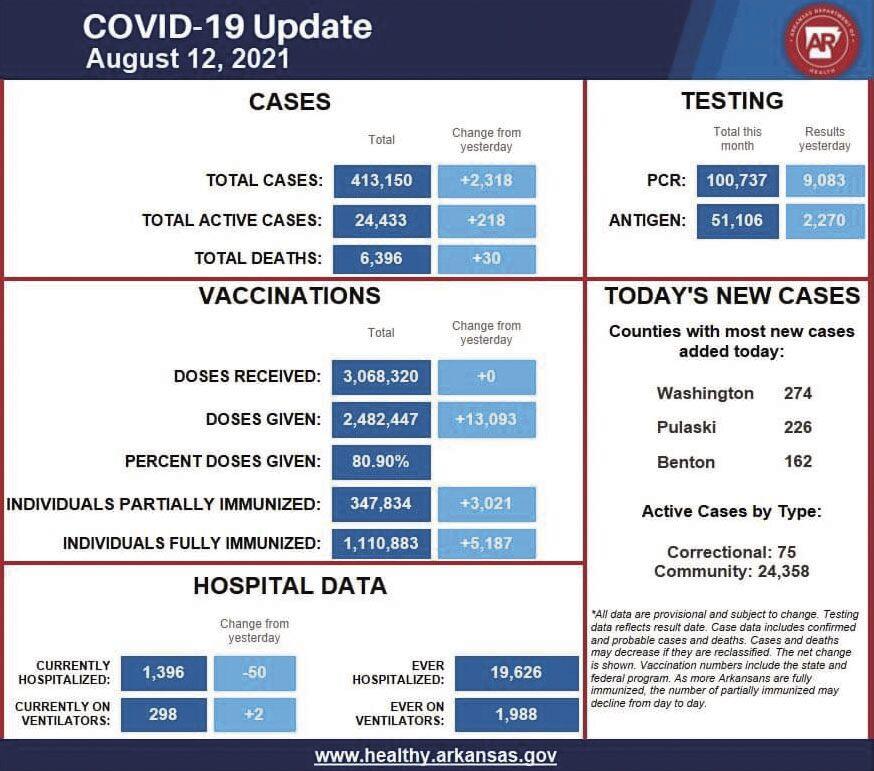 According to the Arkansas Department of Health on Thursday, there were 2,318 bringing the cumulative total to 413,150. Active cases rose by 218 to 24,433. Deaths increased by 30 to 6,369.
Hospitalizations fell by 50 to 1,396 with 298 on ventilators.
The state received results for 9,083 PCR tests and 2,270 antigen tests.
The counties with the most new cases are Washington with 274, Pulaski with 226 and Benton with 162.
Saline County has had 15,564 cumulative cases and currently has 934 active cases and 14,437 recoveries. The county has had 190 deaths.
Nationally, there have been 36,275,482 cases with 619,016 deaths.
Arkansas has received results for 3,068,320 doses of COVID-19 vaccines and given 2,482,447 or 80.9 percent.
There are 347,834 people partially immunized and 1,110,883 fully immunized.
"Today's decrease in hospitalizations will provide some help to our strained hospitals," said Gov. Asa Hutchinson. "I was also informed that Baptist Health will be opening an additional 12 ICU beds in Little Rock, providing more relief. Let's continue to get vaccinated so these beds are not needed."