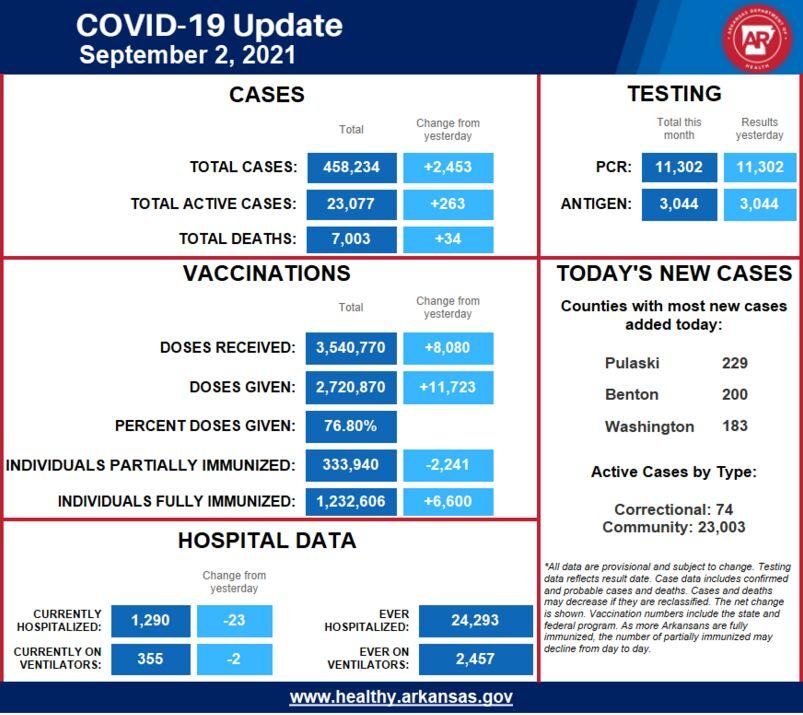 According to the Arkansas Department of Health on Thursday, there are 2,453 new cases of COVID-19 bringing the cumulative total to 458,234. Active cases increased by 263 to 23,077. Deaths rose by 34 to 7,003.
Hospitalizations dropped by 23 to 1,290 with 355 on ventilators.
The state received results for 11,302 PCR tests and 3,044 antigen tests.
The counties with the most new cases are Pulaski with 209, Benton with 200 and Washington with 183.
Saline County has had 16,971 cumulative cases and currently has 705 active cases and 16,049 recoveries. The county has had 214 deaths.
Nationally, there have been 39,480,609 cases with 642,879 deaths.
Arkansas has received 3,540,770 doses of COVID-19 vaccines and given 2,720,870 or 76.8 percent. There are 333,940 people partially vaccinated and 6,600 fully vaccinated.