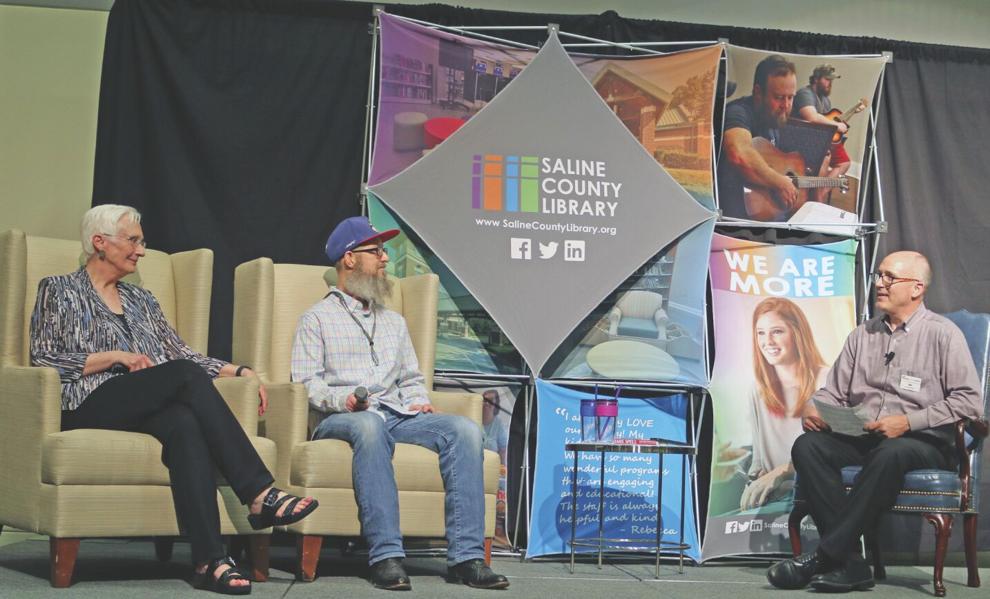 A crowd of close to 400 gathered in the Benton Event Center, with even more watching online, to hear first hand about the West Memphis Three from the group's youngest member and an author who investigated the case.
The Saline County Library held the event.
Community Librarian Alan Robinette sat down for an interview style discussion with Jason Baldwin, who has now gone on to be a founding member of Proclaim Justice, and Investigative Journalist Mara Leveritt.
Leveritt wrote the book "Devil's Knot: The True Story of the West Memphis Three." After his release, she and Baldwin co-authored "Dark Spell: Surviving the Sentence."
Leveritt had previously spoken on some of her other books when she visited Saline County in November of 2021, including "Boys On the Tracks: Death, Denial and a Mother's Crusade to Bring Her Son's Killers to Justice."
"She has been kind enough to come back," Robinette said.
This talk was dedicated to the West Memphis Three and Baldwin's work with Proclaim Justice.
Leveritt said when she began investigating the West Memphis Three she did not know people would still be talking about it 30 years later.
She remembers as she began digging into the case how horrified she was by what she found. After the trials for the boys had concluded, she made a Freedom of Information Act request for all the evidence against them.
"I saw nothing that looked like actual evidence. That was the start for me," she said.
Robinette shared with Baldwin a message from a supporter. The message said as a teen their criminal justice class in a town not far from West Memphis studied the case under a former investigator who showed them how bad the police work was handled in the case. The person wanted Baldwin to know there are people out there who see the miscarriage of justice in the case.
Baldwin said it gives him hope the case will be reopened some day and the real killer of those young boys will be found out.
Baldwin talked about his regret taking the Alford Plea that let him out of prison even though he was innocent. He worried that taking the plea set a precedent that can be used to harm other innocent people.
He explained an Alford plea is something governments use when they know the person they convicted is innocent but refuse to admit it. He called taking the plea a major life regret.
He added it has allowed him to do good.
Because he was out of prison, he was able to council, through Proclaim Justice, man named Daniel Villegas. He was free on bail when he was offered an Alford plea. He told him how much he regretted taking it. Villegas was able to stand up to the state and say no. He ultimately won his case.
"Now he is completely free," Baldwin said.
Leveritt said she interviewed a Supreme Court justice who at the time did not even know what an Alford plea was because it was such a rare thing.
At the time the boys took the plea, they had won the right to a new trial. Leveritt said the case could not use Satanism like they had to convict them the first time and the DNA evidence showed no tie to the boys. She said the state had "monumental challenge" to convict them again so they offered the Alford plea.
She explained that means the accused proclaims innocence but admits they could be convicted at trial.
Baldwin did not want to take the plea, but the other two, Damian Echols and Jessie Misskelley Jr. wanted to take the plea. Even though they had been tried and convicted separately, the prosecutors told them all had to take it or none could. They went further to say if Baldwin did not take the plea, they would pursue the death penalty for Echols.
"It was one of the more coercive acts by a state," Leveritt said, saying they were essentially holding a gun to Echols head to force Baldwin to plea.
Baldwin called the plea unfair and unjust. He had faith the truth was going to be what set him free.
He said the support he received was everything to him.
He talked about when his friend Mojo in prison woke him up to show him "Paradise Lost," the documentary about the case, which came out in 1996. After it came out, he received many letters of support.
Leveritt said when she began to investigate the case, she started realizing all the things that were wrong in the case were not just mistakes. She was disgusted by people who could willing send people to prison for life and Echols to death row on no real evidence. She said those emotions drove her to continue to write.
She eventually felt she had to become an advocate because the West Memphis law enforcement were claiming only people on the west coast thought they were innocent. She wanted to show as someone from Arkansas, she believed in their innocence.
Baldwin said Leveritt's book had facts he did not even know about, such as when Misskelley tried to tell the police about suspicious person who he thought could have been involved in the deaths. He was hoping for the reward money.
Baldwin said if Misskelley had any information he or Echols had been involved, he knows he would have turned them in to get that money.
He was asked how he felt about Misskelley's confessions. Baldwin used the analogy of a school yard bully putting a child in a head lock until they say uncle. He said a person does not get mad at the victim who said uncle, they get mad at the bully who forced them. He sees Misskelley as that victim by the West Memphis police.
Leveritt said Echols attorney asked for years for the knots that were used in the crime in order to run more advance DNA evidence. The first prosecutor said yes but never gave them. The second prosecutor said the evidence was missing, even though it was supposed to be in West Memphis Police Department Custody.
Recently, the evidence suddenly reappeared but the prosecutor is claiming they need a court order. When Echols' attorneys tried to get the order, the prosecutor objected. There is a hearing scheduled.
Baldwin said people can put pressure on elected officials. He said ACT 1870 says the job of the judiciary is to exonerate the innocent and punish the guilty.
Baldwin said he missed his family the most while in prison. He talked about how cruel it was for his family, saying the children in the trailer park where he lived where harassed by police and his young brothers were bullied. His mother's job was threatened if she went to all the hearings.
What he went through fuels his work with Proclaim Justice, which he founded with John Wesley Harding. The organization helps those who cannot help themselves. He said he is paying it forward. While it does not make what he went through worth it, he said helping others is helping him to heal.
The discussion was streamed on the Saline County Library and Garland County Library Facebook pages. It is still available to view.