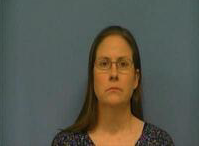 Wednesday morning, Kristy Schneider, 42, pled no contest to  endangering the welfare of a minor, a Class D felony, before Saline County Circuit Judge Josh Farmer. Schneider reached a deal to plea in exchange for a sentence of 48 months probation.
Schneider and her family first received media attention stemming from Schenider's adopted son "Louie" and his health.  
According to court records, Louie was subjected to abuse in a case of Munchausen's syndrome by proxy. Munchausen's involves a parent or guardian who deliberately makes a dependent sick.
When The Saline Courier shared the first of many stories following Louie, Schneider told former Courier reporter Sarah Perry that Louie had a chromosomal abnormality that caused developmental delays. Eventually, he began having gastrointestinal issues. In 2017, he started having seizures and his body began to decline.
His health issues reportedly came to a head in December 2018, when he had to spend six weeks in the hospital for cardiac issues. Louie received a pacemaker, but his blood pressure continued to be low, his mother said.
When Louie took what everyone thought would be his last trip from his home to Arkansas Children's Hospital, he was accompanied by more than 100 first responders. He was not expected to live much longer and had even entered hospice care, but defied the odds with his continued survival.
According to court documents, along with treatment at ACH, Louie was also admitted to Cincinnati Children's Hospital and "placed in the pediatric intensive care unit due to issues with his heart rate and blood pressure," according to court records.
While at ACH, court documents say Louie received a feeding tube and a pacemaker. He was discharged from ACH in hospice care and prescribed fentanyl and morphine.
Louie's palliative care team determined in February 2019 to remove his feeding tube and send him back to ACH for what were believed to be his final days before natural death would occur.
After removing the feeding tube, nine days later Louie continued to improve and "appeared to look better than he had in months." He was sent back home after spending about a month in ACH.
Court documents state that Louie then received care at the Mayo Clinic in Rochester, Minnesota. While being seen by a number of complex care doctors, he was given a new heart medication and the doctors did not believe he was a candidate for hospice care. It was determined he would slowly be weaned off his pain medications. A port was placed in his chest.
Court records show that the Arkansas Department of Human Services received a hotline report July 20, 2019, concerning Louie and two other biological children in the Schneider home, but not the Schneider's other adopted child. The tip indicated that Kristy was allegedly causing the children to be ill.
A second tip was given to DHS on Sept. 11, 2019, that Kristy was misrepresenting the severity of Louie's condition and causing him "unnecessary medical care and interfering with knowing how to care for him."
During a separate court proceeding, the court heard testimony from a number of prominent doctors, including Louie's primary care physician, Dr. Repp, who testified that she found it odd that Kristy once commented that Louie "did a bad job of dying."
During a hearing this morning, Chief Deputy Prosecutor Rebecca Bush told Farmer the sentencing recommendation was due to only some of the offenses occurring in Saline County. She said the county is limited to prosecuting only those offenses that occurred within the county.
During the proceeding, Bush said Juvenile One had developmental delays, but Schneider caused him to receive unnecessary medical treatment in Saline County, at Arkansas Children's Hospital and the Mayo Clinic. She also told Farmer that doctors became concerned about inaccurate information from Schneider about the juvenile's condition.
Doctors found that the port that was placed in his chest and delivering medicines was unnecessary, the narcotics he was administered were unnecessary and he could tolerate more nutrition than he was getting. He could eat and drink with no pain, Bush said.
Now that he is out of Schneider's care, the child no longer requires a wheelchair and can attend school, Bush explained.
Jeff Rosenzweig, of Little Rock, who served as Schneider's legal counsel told Farmer that Schneider has a different position than the prosecutor about why things were done as they were, but concedes a reasonable fact finder could sustain the charge.
Schneider's sentence includes 48 months probation, a fine of $1,500, court costs, a DNA tests, counseling, parental counseling and a no contact order for the juvenile.
Aside from Schneider's criminal charge, last Wednesday, Arkansas Attorney General Leslie Rutledge announced her office was filing a lawsuit against Schnieder and her husband for illegally obtained funds raised to allegedly help with the juvenile's care.
Rutledge cited the Arkansas Deceptive Trade Practices Act as the basis for the lawsuit in regard to the nearly $32,000 in cash, gifts and other services the Schneiders received to help with Louie's care.