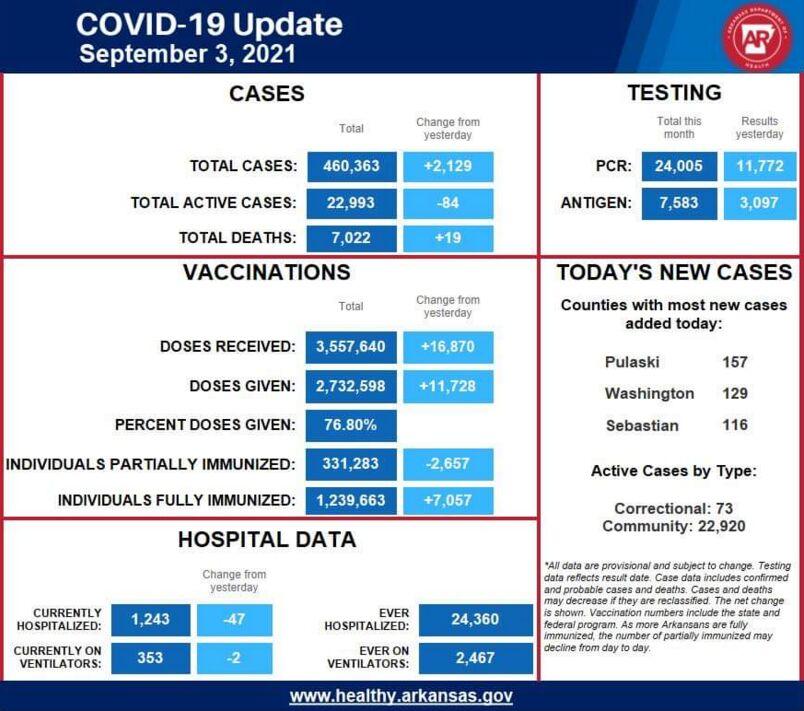 According to the Arkansas Department of Health on Friday, there were 2,129 new cases of COVID-19 bringing the cumulative total to 460,363. Active cases fell by 84 to 22,993. Deaths rose by 19 to 7,022.
Hospitalizations dropped by 47 to 1,243 with 353 on ventilators.
The state has received results for 11,772 PCR tests and 3,097 antigen tests.
The counties with the most new cases are Pulaski with 157, Washington with 129 and Sebastian with 116.
Saline County has had 17,014 cumulative cases and currently has 692 active cases and 16,105 recoveries. The county has had 214 deaths.
Nationally, there have been 39,640,020 cases with 644,468 deaths.
Arkansas has received 3,557,640 doses of COVID-19 vaccines and given 2,732,598 or 76.8 percent. There have been 331,283 people partially immunized and 1,239,663 fully immunized.