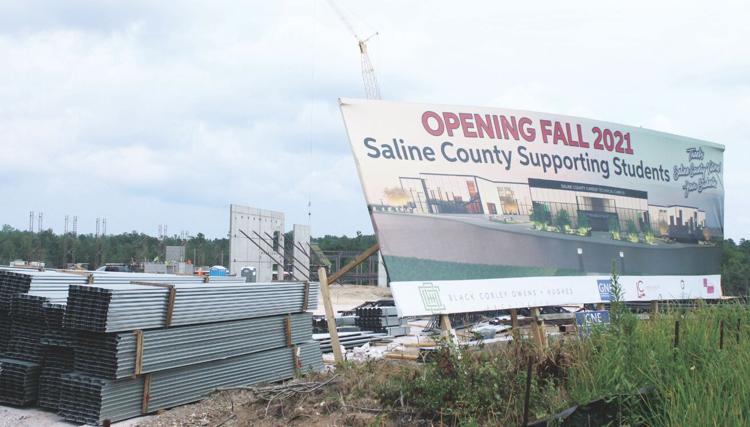 Despite dealing with bad weather and the COVID-19 pandemic, construction on the new Saline County career and technical education facility is going smoothly.
"The project is going very well," said Black Corley Owens + Hughes Architects President Brian Black. "Site grading is complete, much of the site utilities are complete and we are focusing most of our efforts on the building now. Building concrete (footings and slabs), masonry walls and steel erection are ongoing, and it's nice to have some dry summer weather to perform this work."
The center, a collaboration between local school and county officials, along with business owners, will be located on Mountain View Road near Exit 114.
When the center is constructed, students from six school districts — Benton, Bryant, Bauxite, Glen Rose, Harmony Grove and Sheridan — will have the opportunity to take classes in 10 different pathways. In seven of the pathways, upon graduation, students will have the needed certification to earn a job and begin a career.
To cover the construction costs of the center, a ballot item — Issue 6 — for a 3/8-cent temporary sales tax was proposed.
In 2018, More than 20,000 votes, or 54.93 percent, were cast in favor of the issue and about 18,000 people, or 45.07 percent, voted against the ballot item.
In 2019, BCOH was selected to design the project and CDI Contractors won the bid.
CDI submitted a bid for a project at a cost of $27,899,000 and a timeline of 515 days.  
The campus is 140,000 square feet and will be separated into four major areas. Lab spaces for the various pathways will be constructed, as well as multipurpose classrooms and a common area featuring an auditorium designed to fit 400 students.
"There's been a tremendous amount of movement of dirt work getting the site ready so they can pour concrete," said Saline County Judge Jeff Arey. "There's been a lot of working going on, but nobody really noticed anything until recently when they saw those walls going up."
Both Black and Arey said the project is right on schedule despite the challenges of bad weather and COVID-19 and expect the campus to be ready for students in the fall of 2021.
"Both of these events have posed some serious challenges for us this year," Black said. "Construction officially began on Dec. 16, and we dealt with a very wet winter and spring. As you can imagine, it's a nightmare trying to move dirt on a 22-acre site when it rains every other day ... and it did from early January through late April. The entire team simply had to work together to push through it, and we came up with some creative solutions that allowed us to keep working through these conditions (using alternate materials and placement methods). At the same time, COVID-19 threatened to shut the state down. CDI has implemented all of the CDC-recommended procedures to protect the subcontractors and visitors to the site. Although it's a real pain to conduct business in this environment, we're all determined to get through it and protect each other in the process."
With such a large and important project, Black initially had concerns on how to bring so many groups together to work on the project, however, he now has nothing but praise for all involved.
"When BCOH was chosen to design the new CTE Center, I was concerned about the prospect of working for such a large group of people," Black said. "The steering committee is comprised of our county judge and representatives from the Saline County Economic Development Corporation, the six school districts, and the College of the Ouachitas. Having worked on numerous committee-driven projects, I worried about our ability to establish a list of goals with so many different opinions and personalities. As it turned out, I was wrong. The entire group was laser-focused and very productive in all of the design meetings. It has been a true pleasure to work with them, and Saline County residents can rest assured that their dollars are being spent responsibly."
A groundbreaking ceremony for the center was held in March.
"The final product will be worth the wait," Black said. "Our residents will benefit from this facility in many ways. High school students will now have numerous options to train for high-paying careers, while graduating with zero debt. There is no down side. When our youth are empowered to improve their lives, everybody wins. In addition to the personal satisfaction of having a great job, tax revenue goes up, crime goes down and our community becomes a more wonderful place to live. I can't wait to see the impact that this facility makes on Saline County."