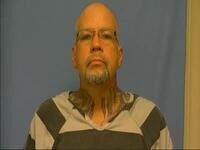 Saline County Sheriff's Office deputies have arrested a man in connection with his girlfriend's death. 
According to a news release, Lonnie Crigger, 53, is facing charges for being a felon in possession of a firearm and murder. 
The victim, Karen McFarland, 47, was reported missing Oct. 21 by a friend and co-worker. A deputy then responded to her residence in Hensley and noticed her vehicle was not there and nobody answered the door. 
Attempts to call McFarland's phone when straight to voicemail, according to a news release. 
The SCSO issued a BOLO for McFarland and her vehicle she was entered in an Arkansas database as missing. 
Two days later on Oct. 23, Crigger was located in McFarland's vehicle.
The victim's body was later located on her property. The body was sent to the Arkansas State Crime Lab for an autopsy, according to a news release. 
This investigation is ongoing, according to the news release.