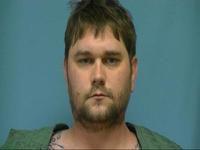 Luke Talbert, 31 of Benton, recently pled guilty to two counts of first-degree murder before Circuit Judge Josh Farmer and was sentenced to serve 50 years in the Arkansas Department of Correction.
On October 29, 2019, Benton Police Department received a 911 call from Talbert at 315 Freeman Street in Benton. Talbert told the operator that he had shot his brother and sister-in-law. Officers who responded to the scene entered the residence where Talbert was staying with his brother Mark and sister-in-law Maegan Talbert. Both Mark and Maegan had been shot with a shotgun and were lying deceased at the foot of the stairs, according to Saline County Prosecuting Attorney Chris Walton.
The investigation revealed that Mark and Maegan had decided to ask Luke Talbert to leave their home because they did not approve of his behavior. Luke had been drinking heavily on the night of the incident and returned to his brother's home where there was a confrontation. Luke Talbert retrieved a shotgun from his bedroom and shot and killed both his brother and sister-in-law, Walton said.
"The families involved did not want to endure what they felt would be an emotional and difficult trial and instead chose to look to the future and attempt to begin to heal from this horrible experience. Their loss was devastating but the guilty plea brought some comfort to them in knowing that this part of the process was over," Walton said. "Thanks to the Benton Police Department and Deputy Prosecuting Attorney Rebecca Bush for their hard work bringing this offender to justice."