A Benton man is currently being held at the Saline County Detention Center on several charges including kidnapping, false imprisonment, assault, domestic battery and kidnapping.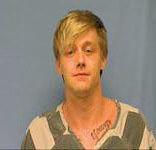 According to Sgt. Wade Gilliam, spokesperson for the Saline County Sheriff's Office, Stacy Williams turned himself into deputies after being named in active arrest warrants. Williams' bond has been set at $15,000.  
According to an affidavit prepared by an officer the Benton Police Department, a woman who was acquainted with Williams reported that he assaulted and kidnapped her.  
The woman told police she and Williams had been fighting after "he found something (on her phone) he didn't like."
The woman reported that while at a Benton residence, Williams would not let her leave a bedroom and he stood in the doorway refusing to move. During the incident, Williams allegedly grabbed her, picked her up and threw her on the bed before strangling her and telling her that she was going to die, according to court documents. 
While being strangled, the woman reported blacked out. She is unsure how long she was unconscious, but told police that when she woke up, she was unable to catch her breath. 
Williams allegedly continued to block the exit and once again strangled her. 
"Williams started dragging her by the neck across the room and back into the bedroom and again picked her up and threw her on the bed. (The victim) stated that Williams laid in bed with her and held her all night to make sure she didn't leave," according to the affidavit. 
The following day after the woman reportedly told Williams that she need to go to work, he allegedly told the victim to get in the car. He "drove all over Benton for over a hour…any time that she tried to get help, Williams would hit her in the face and then told her if she continued to try and get help that he would keep hitting her," according to the affidavit. 
Eventually, the two ended up near the Saline River. When Williams exited the vehicle, the woman reportedly locked the doors, got into the driver's seat and drove away. 
The victim "sustained bruising around her neck and bruising to her left shoulder," according to the affidavit.