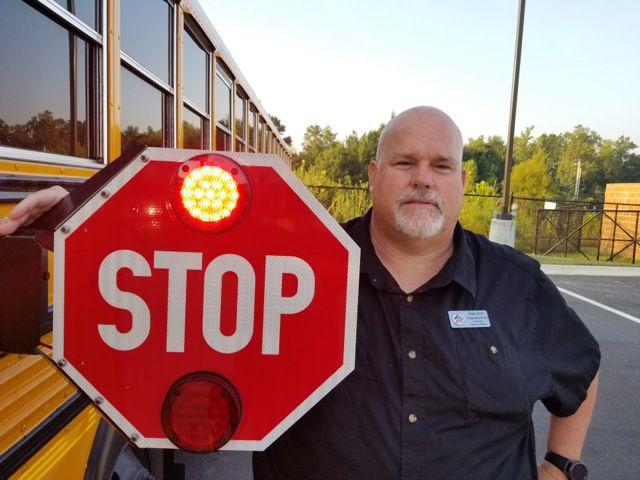 With the new school year getting underway this week, the Benton School District is participating in the Flashing Red, Kids Ahead initiative to promote school bus safety.
"Student Safety is the number one priority of the Benton School District and its transportation department," said Benton Transportation Director Danny Revis.
While school bus safety is a top priority throughout the school year, the BSD is joining a month-long public awareness campaign to remind students, parents and the community about the importance of school bus safety.
Flashing Red, Kids Ahead is the theme for the 2019 campaign which is in its seventh year. The campaign, sponsored by the Arkansas Department of Education, Arkansas Association of Pupil Transportation and the Arkansas School Bus Mechanics Association, runs the entire month of August. Schools and safety advocates throughout the state will remind Arkansas motorists to obey all traffic laws whenever they are near a school bus. It is illegal to pass a stopped school bus whenever its red lights are flashing, as students are getting on or off the bus.
"Earlier this year, Arkansas school bus drivers reported more than 850 instances of motorists illegally passing a stopped school bus in one day," Revis said. "Through this month-long public awareness campaign, we are reminding motorists that they play an important role in keeping our students safe."
Revis is asking all motorists to exercise care and patience whenever they are near a school bus.
"Traffic will be heavy," Revis said. "Especially the first few days of school. We ask drivers to plan ahead and leave early."
A number of new laws are in effect this year thanks to efforts by state legislators.
The fines, penalties and punishment for anyone found guilty of illegally passing a stopped school bus were increased dramatically by Act 2128 of 2005, also known as Isaac's Law. The legislation passed by the Arkansas General Assembly was named for Isaac Brian, an elementary school student in the Bryant School District who was struck and killed when a driver illegally passed his school bus while students were exiting the vehicle. Act 166 of 2019 strengthened those penalties even further, including high fines and drivers license suspension.
"This campaign also serves as an excellent time to teach and reiterate to students and parents simple measures they can take while going to and from the bus stop, getting on and off the bus, and riding the bus," Revis said. "We make every attempt to place bus stops in areas with the least amount of traffic."
Revis also added that people should especially be aware of areas such a Edison and U.S. 70 where there are school bus stops.
In Arkansas, approximately 6,000 school buses transport around 350,000 students to and from school and school-related activities each school day. According to Revis, in the BSD, approximately 1,500 students ride school buses each school day.
Additionally, Revis added that the campaign also gives the BSD a chance to "thank and honor the professional school bus drivers who devote themselves to transporting our most precious cargo."
Revis thanked the community leaders for their support and collaboration with the Flashing Red Kids Ahead campaign and for their passion in promoting the cause, including former Bryant School District Transportation Director and current Benton Mayor Tom Farmer, Bryant Transportation Director Scott Curtis, Saline County Prosecuting Attorney Chris Walton and Susie Everett and the Everett family.
"We must all do our part to keep our children safe as they travel to and from school and school-related activities," Revis said. "Please help our students have a safe and productive school year."
For more information about the Flashing Red, Kids Ahead campaign, please visit the Arkansas Department of Education's website at www.flashingredkidsahead.org.