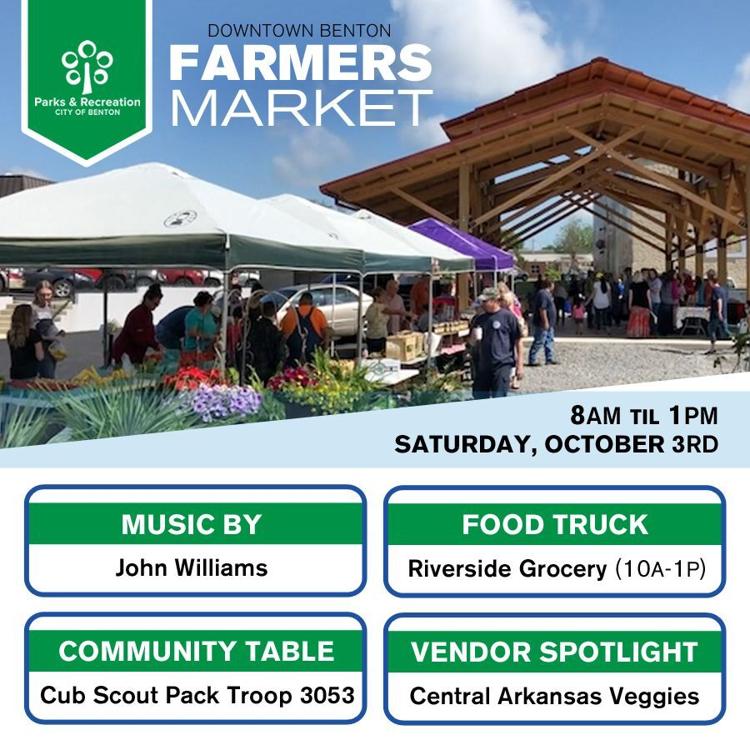 The City of Benton Farmers Market will be holding a day of fun, music and shopping Saturday.
In September, The Saline Courier reported that the market was looking to add new vendors. Following that announcement, the Benton City Council passed a measure that all booth fees would be waived for any interested business, farmer or artist that would like to participate.
The market is managed by the Benton Parks and Recreations Department. Special Events Coordinator Grant Watts said that they are also looking to spotlight local musicians and non-profit groups and other local organizations and businesses.
"We are looking to showcase (musicians) in our Local Artist Spotlight," Watts said. "You will be provided a spot at the market to perform acoustical music during market hours."
Watts also added that they are hoping to showcase businesses, non-profit or other local organizations through a special Community Table Spotlight.
"You will be provided a spot at the market for you to distribute your information and visits with patrons about your business or organization," Watts said.
According to Watts, the market also plans to feature a food truck each Saturday in October.
From 8 a.m. to 1 p.m. Saturday, the market will feature music by John Williams and the Community Table will be feature Cub Scout Pack Troop 3053.
Riverside Grocery will be the featured food truck and will be onsite from 10 a.m. to 1 p.m.
The featured Vendor Spotlight will be Central Arkansas Veggies.
Vendors are responsible for their own table and chair and spots are limited. All sellers must obtain a privilege license with the city clerk's office to be able to sell items and must be an approved market vendor with Benton Parks and Recreation.