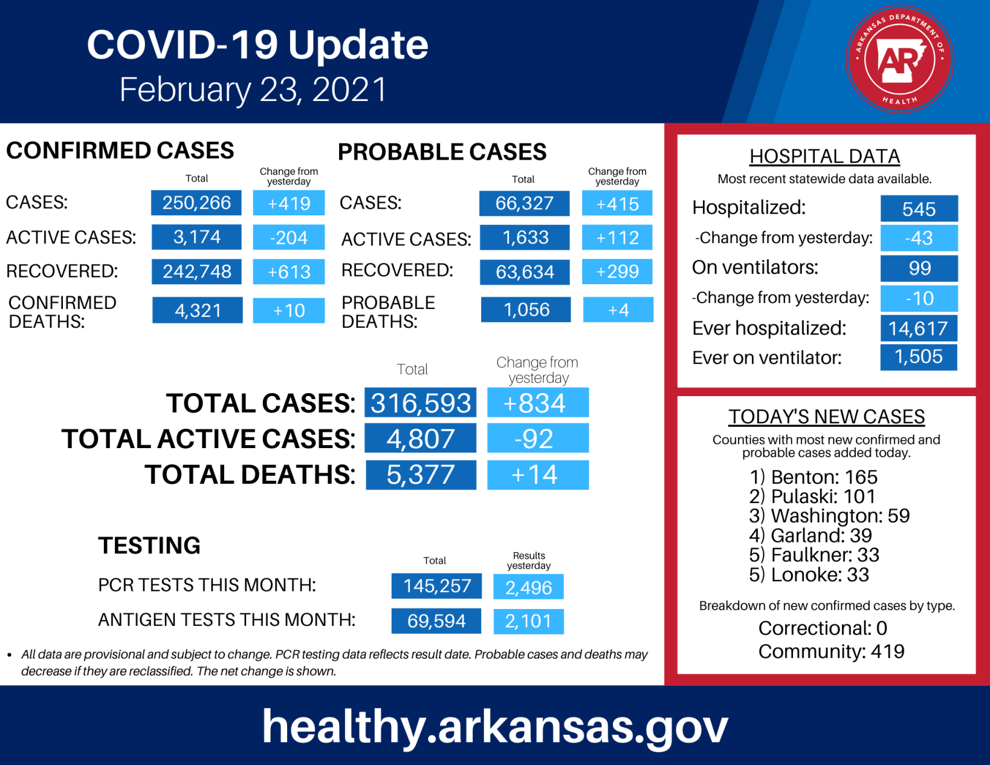 During his weekly update on Tuesday, Hutchinson expressed grief over the more than 500,000 across the nation who have died from COVID-19.
He reported there were 419 new confirmed cases of COVID-19 in the state bringing the confirmed cumulative total to 250,266. Active confirmed cases dropped by 204 to 3,174 with 242,748 recoveries.
Probable cases went up by 415 to 66,327. Active probable cases increased by 112 to 16,333 with 63,634 recoveries.
Confirmed deaths rose by 10 to 4,321 and probable deaths went up by four to 1,056.
Hospitalizations fell by 43 to 545 with 99 on ventilators.
The state received results for 2,496 PCR tests and 2,101 antigen tests.
The counties with the most new cases are Benton with 165, Pulaski with 101, Washington with 59, Garland with 39, Faulkner with 33 and Lonoke with 33.
Hutchinson said testing is still low from the storm.
Saline County has had 11,290 cumulative cases of COVID-19 — 8,446 confirmed and 2,844 probable. Active cases are at 154 — 91 confirmed and 63 probable. There have been 10,971 recoveries — 8,215 confirmed and 2,756 probable. The county has had 163 deaths — 138 confirmed and 25 probable.
Nationally, there have been 28,239,571 cases with 501,005 deaths.
Hutchinson announce vaccinations are expanding to include those age 65 and over.
More about Hutchinson's briefing will be in Wednesday's edition of The Saline Courier.