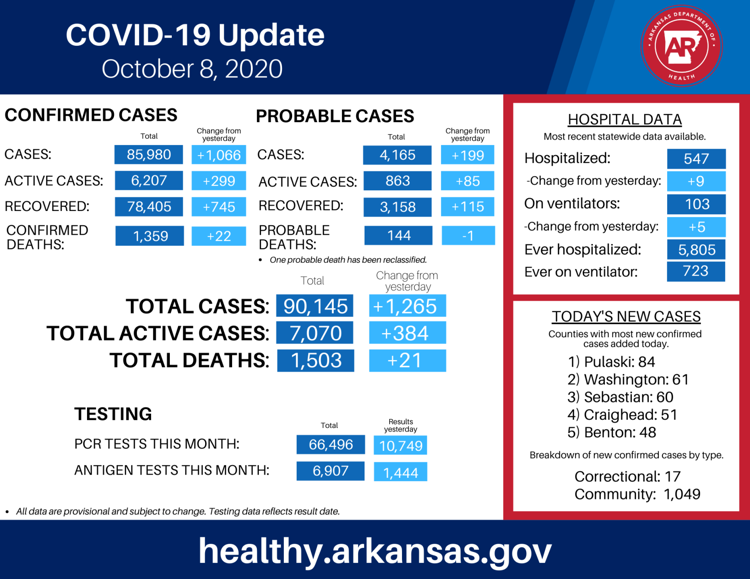 The Arkansas Department of Health reported 1,066 new confirmed cases of COVID-19 today, for a cumulative total of 85,980 with 6,207 confirmed active and 78, 405 recovered.
Hospitalizations rose by nine to 547 with 103 on ventilators.
Deaths went up by 22 to 1,359.
Probable cases increased by 199 to 4,165 with 863 probable active cases, 3,158 recoveries and 144 probable deaths. One probable death was reclassified.
The state received results for 10,749 PCR tests and 1,444 antigen tests.
The counties with the most new cases are Pulaski with 84, Washington with 61, Sebastian with 60, Craighead with 51 and Benton with 48.
Saline County has had 2,307 cases — 2,191 confirmed and 116 probable. Active cases are at 193 — 176 confirmed and 17 probable. There have been 2,089 recoveries — 1,992 confirmed and 97 probable. Deaths are at 24 — 22 confirmed and two probable.
Across the country, there have been 7,586,904 cases with 2,999,895 recoveries and 212,420 deaths.
"We continue to see high levels of community spread across Arkansas. While I see so many Arkansans doing the right thing by wearing a mask, keeping their distance and avoiding large gatherings, I know that it will take everyone working together to defeat this virus," Gov. Asa Hutchinson said in a news release.