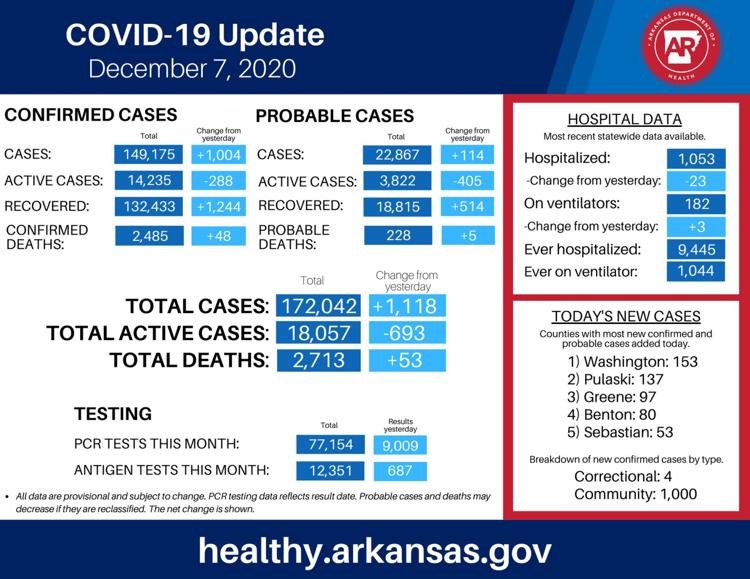 The Arkansas Department of Health reported 1,004 new confirmed cases of COVID-19 for a confirmed cumulative total of 149,175 with 14,235 confirmed active and 132,433 recovered.
Hospitalizations dropped by 23 to 1,053 with 182 on ventilators. 
Deaths rose by 48 to 2,485. 
ADH shows 114 new probable cases with 3,822 probable active, 18,815 recovered and 228 total probable deaths. 
The state received results for 9,009 PCR tests and 687 antigen tests. 
The counties with the most new cases are Washington with 153, Pulaski with 137, Greene with 97, Benton with 80 and Sebastian with 53.
Saline County has had 5,548 cumulative cases — 4,555 confirmed and 993 probable. Active cases are at 760 — 580 confirmed and 180 probable. There have been 4,721 recoveries — 3,913 confirmed and 808 problem. The county has had 66 deaths — 61 confirmed and five probable. 
The United States has had 14,883,966 cases with 5,624,444 recoveries and 283,211 deaths. 
"Yesterday recorded our highest total number of deaths since the COVID-19 pandemic began," Gov. Asa Hutchinson said in a release for the numbers. "This high number of our friends and neighbors losing their lives is a tough reminder of our responsibility to follow the public health guidelines each day. Tomorrow, I will be in Saline County meeting with community leaders on local strategies."
Hutchinson is scheduled to speak at 10 a.m. Tuesday at the Benton Event Center.