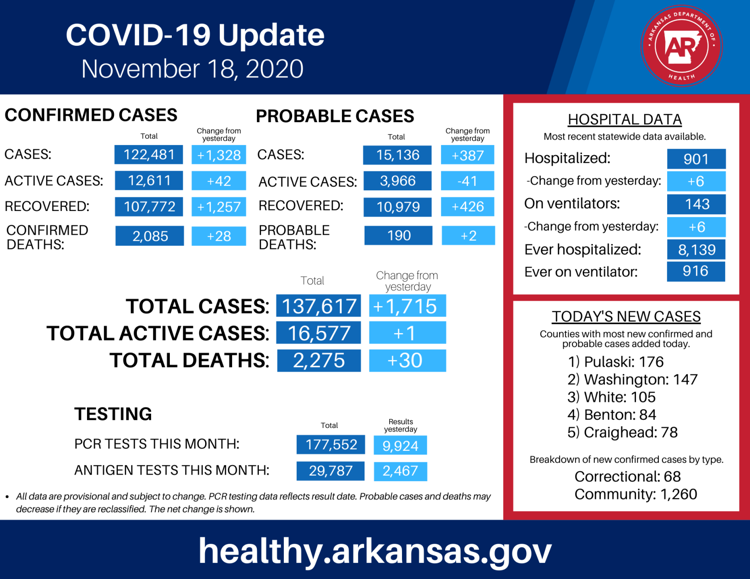 New confirmed cases of COVID-19 rose 1,328 to a cumulative total of 122,381, according the Arkansas Department of Health. Confirmed active cases are at 12,611 with 107,772 recoveries.
Hospitalizations went up by six to 901 with 143 on ventilators.
Deaths increased by 28 to 2,085.
The ADH reported 387 new probable cases of COVID-19, with 3,966 active, 10,979 recovered and 190 total probable deaths.
The state received results for 9,924 PCR tests and 2,467 antigen tests.
The counties with the most new cases are Pulaski with 176, Washington with 147, White with 105, Benton with 84, and Craighead with 78.
Saline County has had 4,004 cumulative cases — 3,405 confirmed and 599 probable. Active cases are at 614 — 428 confirmed and 186 probable. There have been 3,341 recoveries — 2,930 confirmed and 411 probable. Since the start of the pandemic there have been 48 deaths — 46 confirmed and two probable.
Nationally, there have been 11,468,739 cases with 4,293,640 recoveries and 249,935 deaths.
"Our hospitalizations again reached an all-time high today," said Gov. Asa Hutchinson in the release. "This puts a strain on our medical teams and it's never been more important for all of us to do our part and be part of the solution."