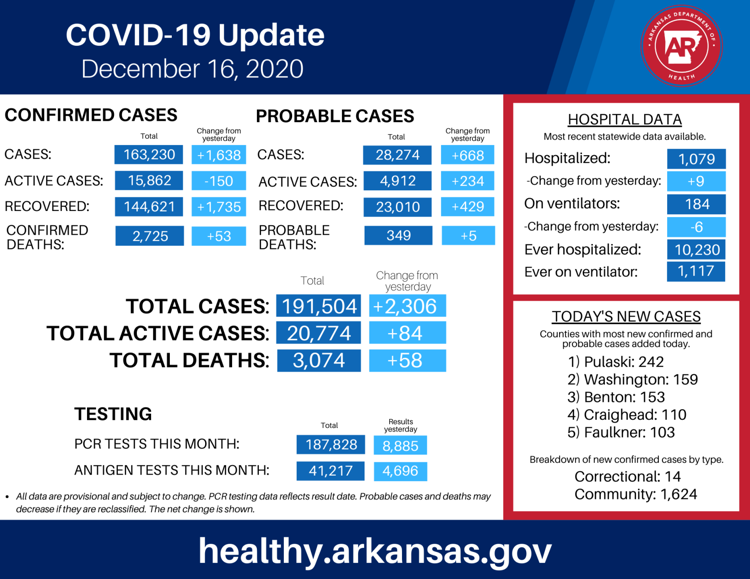 New confirmed cases of COVID-19 have risen in Arkansas by 1,638 to a confimed cumulative total of 163,230 as of Wednesday, according to the Arkansas Department of Health. Active confirmed cases are at 15,862 with 144, 621 recoveries.
Probable cases increased b 668 to a probable total of 28,274 with 4,912 probable active cases and 23,010 recoveries.
Confirmed deaths went up by 53 to 2,725 and probable deaths increased by five to 249.
Hospitalizations rose by nine to 1,079 with 184 on ventilators.
The state received results for 8,885 PCR tests and 4,696 antigen tests.
The counties with the most new cases are Pulaski with 242, Washington with 159, Benton with 153, Craighead with 110 and Faulkner with 103.
In Saline County there have been 6,373 cumulative cases — 5,132 confirmed and 1,241 probable. Active cases are at 807 — 596 confirmed and 211 probable. There have been 5,482 — 4,461 confirmed and 1,021 probable. There have been 83 deaths in the county — 74 confirmed and nine probable.
Nationally there have been 16,873,988 cases and 306, 243 deaths.
"Yesterday was a new record in antigen testing in Arkansas, and new cases are running flat week over week. Regretfully, we also saw another record in new deaths, with 58 deaths reported yesterday," Gov. Asa Hutchinson said in the release. "We are distributing the vaccine across the state for our health care workers, and we continue to see high levels of community spread."