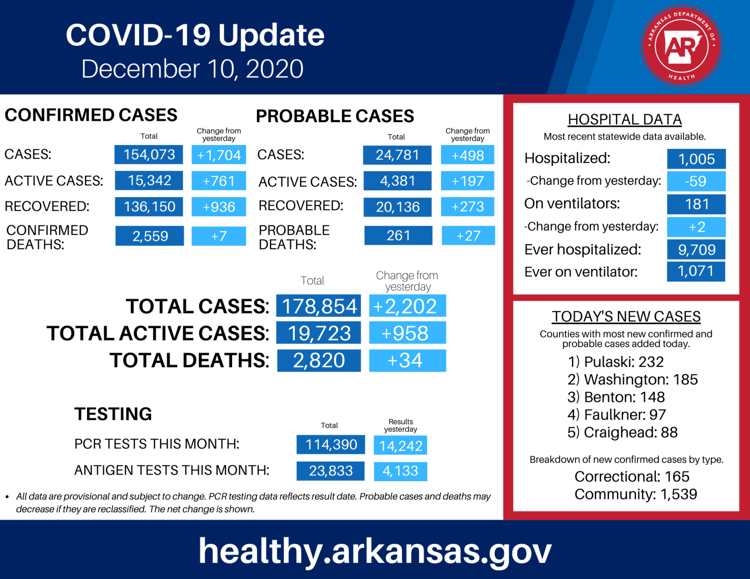 The Arkansas Department of Health numbers show 1,704 new confirmed cases of COVID-19 for a cumulative confirmed total of 154,073 with 15,342 active confirmed cases and 136,150 recoveries.
Hospitalizations dropped by 59 to 1,005 with 181 on ventilators.
Confirmed deaths rose by seven to 2,559 and probable deaths increased by 27 to 261.
ADH reported 498 new probable cases for a probable total of 24,781 with 4,381 active probable cases and 20,136 recoveries.
The state received results for 14,242 PCR tests and 4,133 antigen tests.
The counties with the most new cases are Pulaski with 232, Washington with 185, Benton with 148, Faulkner with 97 and Craighead with 88.
Saline County has had 5,829 cases — 4,743 confirmed and 1,086 probable. Active cases are at 806 — 611 confirmed and 195 probable. There have been 4,954 recoveries — 4,068 confirmed and 886 probable. There have been 68 deaths — 63 confirmed and five probable.
The country has had 15,550,786 cases with 5,891,885 recoveries and 291,754 deaths.
"A decrease in hospitalizations is a good sign, but this has not been the trend," said Gov. Asa Hutchinson in the release for the numbers. "Continue to wear a mask, wash your hands and watch your distance as you are out and about."
Benton, Bauxite, Bryant and Harmony Grove are all on the list of school districts with 50 or more new known infections for 10,000 residents in the past 14 days, according to the Arkansas Center for Health Improvement.
Statewide, 34 districts were added to the list and 74 remained on the list from last week.
These are considered red zone districts. This does not mean the infections are in the school, but in the community putting the schools at risk.