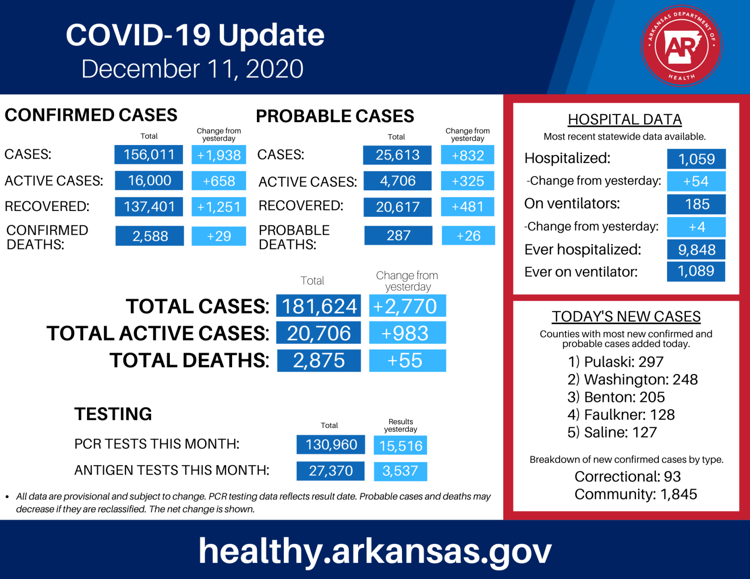 New confirmed cases of COVID-19 rose 1,938 to 156,011 cumulative confirmed cases Friday, according to the Arkansas Department of Health. Confirmed active cases are at 16,000 with 137,401 recoveries.
Hospitalizations went up by 54 to 1,059 with 185 on ventilators.
Confirmed deaths rose by 29 to 2,588 and probable deaths increased by 26 to 287.
ADH reported 832 new probable cases of the virus for a probable total of 25,613 with 4,706 active probable cases and 20,617 recoveries.
The state received results for 15,516 PCR tests and 3,537 antigen tests.
The counties with the most new cases are Pulaski with 297, Washington with 248, Benton with 205, Faulkner with 128 and Saline with 127.
Saline County has had 5,976 cumulative cases of COVID-19 — 4,848 confirmed and 1,128 probable. Active cases are at 874 — 659 confirmed and 215 probable. There have been 5,029 recoveries — 4,122 confirmed and 907 probable. The county has had 72 deaths — 66 confirmed and six probable.
Nationally, there have been 15,746,026 cases with 5,985,047 recoveries and 293,785 deaths.
"We have once again reached a grave milestone in this pandemic. Fifty-five Arkansans lost their lives yesterday as a result of COVID-19," Gov. Asa Hutchinson said in the release for the numbers. "While we may have hope ahead from promising vaccine news, we cannot grow weary over the next few weeks. This virus spreads easily and can infect any of us. Please take proper precautions."