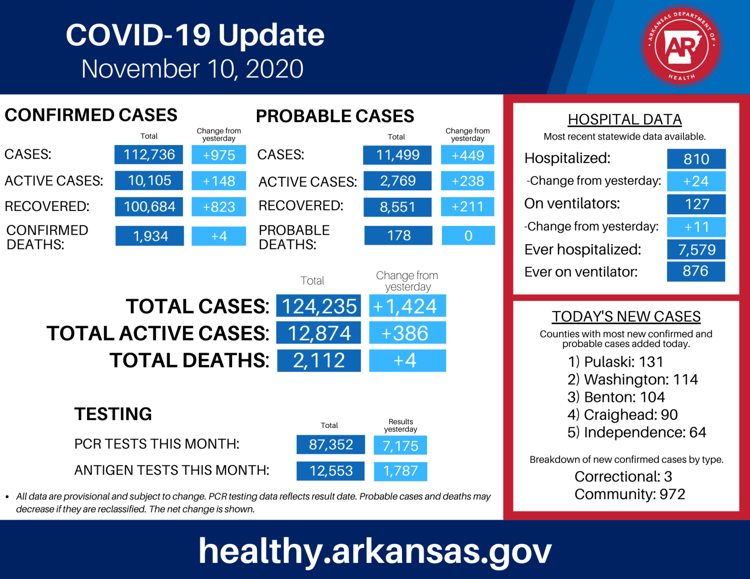 The Arkansas Department of Health daily report shows 975 new confirmed cases of COVID-19 for a cumulative total of 112,736 confirmed cases with 10,105 confirmed active and 100,684 recoveries.
Hospitalizations rose by 24 to 810 with 127 on ventilators.
Deaths rose by four to 1,934. 
ADH reported 449 new probable cases of the virus for a probable total of 11,499 with 2,769 probable active cases, 8,551 recoveries and 178 total probable deaths. 
The state received results for 7,175 PCR tests and 1,787 antigen tests. 
The counties with the most new cases are Pulaski with 131, Washington with 114, Benton with 104, Craighead with 90 and Independence with 64. 
Saline County has had 3,481 cumulative cases — 3,070 confirmed and 411 probable. Active cases are at 451 — 334 confirmed and 117 probable. There have been 2,987 recoveries — 2,695 confirmed and 292 probable. Deaths in the county are up to 42 — 40 confirmed and two probable. 
Across the county, there have been 10,205,207 cases with 3,928,845 recoveries and 239,274 deaths. 
Gov. Asa Hutchinson held his weekly news briefing today. Topics included updated guidance for churches and places of worship, schools and holidays. 
The full report on the briefing will be in Wednesday's edition of The Saline Courier.