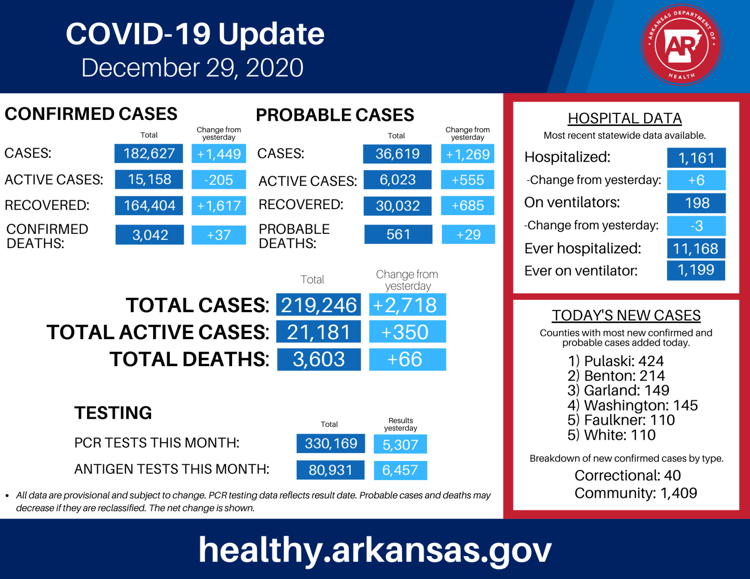 New confirmed cases of COVID-19 have risen by 1,449 to a confirmed cumulative total of 182,627 cases with 15,158 confirmed active and 164,404 recoveries, according to the Arkansas Department of Health on Tuesday.
Probable cases increased by 1,269 to a probable cumulative total of 36,619 with 6,023 probable active and 30,032 recoveries.
Confirmed deaths went up by 37 to 3,042 and probable deaths increased by 29 to 561.
Hospitalizations rose by six to 1,161 with 198 on ventilators.
The state received results for 5,307 PCR tests and 6,457 antigen tests.
The counties with the most new cases are Pulaski with 424, Benton with 214, Garland with 149, Washington with 145, and Faulkner and White both with 110.
Saline County has had 7,393 cases of COVID-19 — 5,837 confirmed and 1,556 probable. Active cases are at 748 — 535 confirmed and 213 probable. There have been 6,545 recoveries — 5,214 confirmed and 1,331 recoveries. Since the beginning of the pandemic, there have been 99 deaths in the county — 87 confirmed and 12 probable.
Nationally there have been 19,468,771 cases with 337,210 deaths.
During his weekly COVID-19 update, Gov. Asa Hutchinson announced a 60-day extension of the statewide emergency.
The full story on Hutchinson's update will be in Wednesday's edition of The Saline Courier.