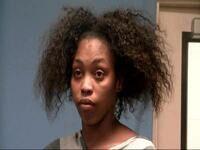 New details have been released regarding a Little Rock woman facing capital murder charges in the death of her child who was thrown from a moving vehicle on Interstate 30 near Exit 117 in September.
Whitney Turner-Tyson, 30, was charged with capital murder, a class Y felony, and child endangerment, a class D felony, in September. If convicted, Turner-Tyson could face the death penalty or life in prison. She was denied bond by Judge Josh Newton in Saline County District Court.
According to court documents, new details in the case have emerged, including official confirmation from investigators that the child who died was one of Turner-Tyson's daughters. At the time of the child's murder, it was widely reported that the baby who was thrown from the vehicle was one of Turner-Tyson's children, but that was not confirmed by official sources until now.
According to an investigative report from the Arkansas State Police, law enforcement officials received a call at approximately 9:05 a.m. Sept. 15 that an infant child was found lying on the inside shoulder of Interstate 30 westbound near mile marker 117.
Arriving at the scene, ASP Special Agent Michael Garlington reported that the area where the child was found had been secured by ASP and Benton Police Department officers. He also noted that blood stains were found on the ground that resembled the shape of a small head.
The child was taken to the Saline Memorial Hospital for treatment prior to Garlington's arrival. She was later pronounced dead.
While on scene, investigators learned that a black female, later identified as Turner-Tyson, had been involved in a minor vehicular crash around midnight. She was not verbally communicating with officials and had been transported to the hospital for treatment where she was admitted for a suspected drug overdose.
ASP Sgt. J. Blackmon also responded to the hospital and met with the Saline County Coroner to collect evidence. While Blackmon was in the room, Turner-Tyson attempted to enter where the baby had been treated. After being denied entry, Turner-Tyson was discharged from the hospital and had not yet been identified as the infant's mother. She was later found walking on Carpenter Street.
When contacted, Turner-Tyson would not speak with anyone and appeared distant. She was taken into custody and transported to the Saline County Detention Center and placed in an interview room.
Garlington and ASP Special Agent R. Jacks attempted to speak with Turner-Tyson about her daughter, but she would not verbally respond. She would only shake her head yes or no in response to questions.
Turner-Tyson then requested a cigarette and said that she would speak to investigators after smoking, which she was allowed to do.
After returning to the interview room, Turner-Tyson again went silent for awhile and sat down on the floor in the interview room. Once she began speaking, Turner-Tyson identified the father of her three daughters and said that he could be found somewhere between Texarkana and Little Rock.
Turner-Tyson then told investigators that she took her infant daughter out of her seatbelt and threw her onto the side of the interstate prior to crashing into a barricade a mile or more down the road. She also stated that as she threw the baby out of the car that the driver of an 18-wheeler blew their horn at her and that the driver may have seen what she had done.
When asked why she threw the baby out of the car, Turner-Tyson stated that she was driving and thought she felt someone patting her on the back of her head. After that statement, Turner-Tyson again went silent and covered her face refusing to continue to talk, giving no further details to investigators.
Turner-Tyson remains in custody at the SCDC with no bond.
The Saline Courier will continue to follow this story and update when more information is available.