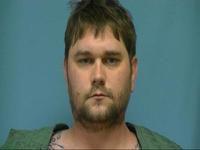 Facing upgraded charges of capital murder, a 29-year-old Benton man accused of fatally shooting his brother and sister-in-law was denied bond in Saline County District Court this morning.
Appearing before Saline County District Judge Josh Newton, Luke Talbert listened to the charges, but made no comment on the upgrades. Originally charged with two counts of first-degree murder, the charges were upgraded based on statements from Saline County Prosecuting Attorney Chris Walton.
According to Walton, Talbert allegedly shot his brother, Mark Talbert, 26, and sister-in-law, Maegan Talbert, 23, with a pump-action shotgun Tuesday night in Benton. Walton also stated that Talbert left the room to acquire the weapon before returning to fire both shots.
Talbert's next court date is set for Dec. 17. For more information, ses Saturday's edition of The Saline Courier.