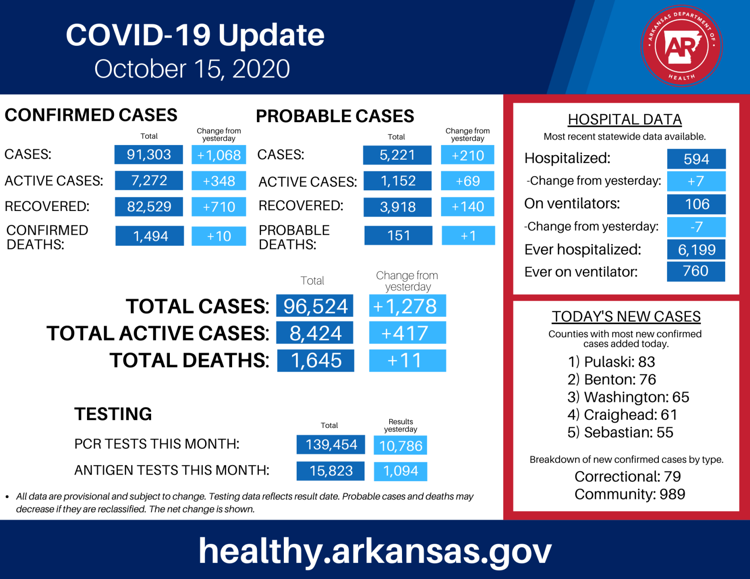 According to numbers released by the Arkansas Department of Health today, there are 1,068 new confirmed cases of COVID-19 in the state for a cumulative total of 91,303 with 7,272 active and 82,529 recovered.
Hospitalizations rose by seven to 594 with 106 on ventilators.
Deaths went up by 10 to 1,494.
ADH reported 210 new probable cases for a probable total of 5,221 with 1,152 probable active cases, 3,918 probable recoveries and 151 probable deaths.
The state received results  for 10,786 PCR tests and 1,094 antigen tests.
The top counties with new cases are Pulaski with 83, Benton with 76, Washington with 65, Craighead with 61 and Sebastian with 55.
Saline County has had 2,521 total cases — 2,373 confirmed and 148 probable. Active cases are at 220 — 190 confirmed and 30 probable. There have been 2,272 recoveries —  2,156 confirmed and 116 probable. Deaths are at 28 — 26 confirmed and 22 probable.
Across the country, there have been 7,962,046 with 3,155,826 recovered and 217,497 deaths.
In the release Hutchinson said he had expected the numbers to go up because it is toward the end of the week, but today's cases are a new high.