With a dress code of overalls or blue jeans, Habitat for Humanity of Saline County's Overall Ball is set to be a more laid back fundraiser while giving supporters a chance to enjoy an evening out. 
The ball will be from 6 to 9 p.m. Thursday at the Benton Event Center. 
Development Director Amy Kelly said Habitat chose the Overall Ball because they wanted a more relaxed, fun event. She believes it puts people in the mindset that the organization is trying to raise money to buy supplies to build homes for those in need of quality, affordable housing. Attendees can wear overalls, jeans, tool belts, construction hats or anything they feel goes along with the theme. Habitat describes the theme as "construction chic." There will be an award for best dressed. 
There will be a photo booth with props for attendees to memorialize their outfits. 
Tom Baxley, of Baxley-Penfield-Moudy Realtors, will serve as emcee for the event.
International touring duo Susan Erwin Prowse and Cliff Prowse will entertain the event with piano, fiddle and guitar. Kelly said they take requests of all types and the pair is very interactive with the audience. They have performed at events for other Habitat affiliates. 
Over the last few months, ACDI has been working to create a video to capture Habitat experiences and what the organization means to those who get the homes and those who support the organization. The final result will be played during the ball. 
Throughout the event, attendees will be able to play a selfie Bingo-type game where they will try to line-up a list of different selfies, such as selfie with a mayor or selfie with a Saline Courier staff member. 
Gina's Catering will serve breakfast for dinner. For dessert there will be a s'more station and a cupcake station. Beer and wine will be served. 
Kelly said another way to really show just where the money is going will be the house backdrop that will be on display. There will be tags for items such as a box of nails for $10 all the way up to $3,500. Supporters can take a tag and "purchase" an item. The money from the purchase goes to Habitat. 
During the event, tickets for drawings will be on sale. Items to be given away include a handmade children's picnic table, patio set and lamps from Ashley Furniture. Each item will have a bucket where tickets can be placed for a chance to win. Tickets are $5 or five for $20.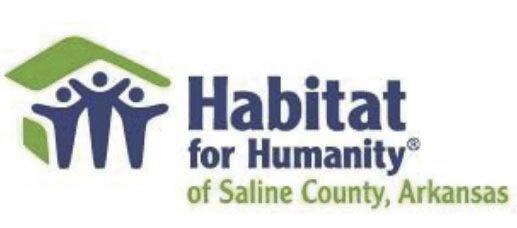 There will be a special surprise item up for live auction during the evening. 
The presenting sponsor for the Overall Ball is Ridout Lumber Company. The raise the roof sponsors are Baxley-Penfield-Moudy Realtors, Road Runner and Owens Murphy Jaguar. The light the house sponsors are The Lancaster Law Firm and First Security Bank. 
Tickets for the ball are $40 each or $350 for a table of 10. They can be purchased at the Habitat ReStore, online at www.habitatsalinecounty.com or at the door.
Kelly encourages the community to come out, have a fun night and see what Habitat is all about.