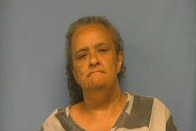 A Mabelvale woman was arrested Sunday after her dog allegedly attacked a neighbor. 
Kimberly Miller, 56, is facing a charge of aggravated assault. 
A man reported that the incident started after a verbal argument between Miller, himself and his girlfriend. Miller reportedly gave the man and his girlfriend a ride to pick up his belongings. 
"He requested to Miller to let him out of the vehicle," according to the Saline County Sheriff's Office report. 
When the group arrived at Miller's home, she allegedly went inside and returned with an airsoft gun and struck the man with the gun. She also allegedly "let her dogs out and told them to attack him and (his girlfriend)," the man told deputies. 
When deputies arrived at the scene, the man's girlfriend was being treated by medical staff and she was later transported to a local hospital for her injuries. 
Miller told deputies the man "made her fear for her life" adding that the man and his girlfriend were grabbing the steering wheel while they were in the vehicle. She also told police the man threatened to pull her hair while she was driving, according to the report. 
Miller was released from the Saline County Detention Center after posting bond Monday.