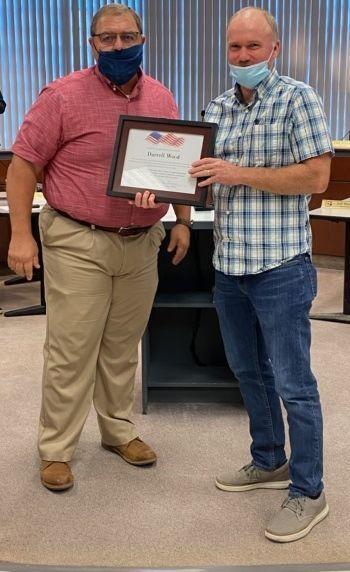 Benton Mayor Tom Farmer, along with the city council, have honored a local resident for his patriotic contributions to the city.
Darrell Wood was presented with a plaque honoring him for placing American flags around the city.
"I want to give you a little history here," Farmer said. "Back around July 4, I noticed there was a street with flags on it. I thought, 'man that looks great.'"
Farmer said he noticed even more flags the following day and that as the weeks went on, more and more flags began appearing around the city.
"Before I knew it," Farmer said. "That whole area had flags on every street."
The mayor then began to call around to local individuals and businesses to see if anyone might know who was placing the flags.
Farmer's son, Josh Farmer, who lives on Sevier Street, was able to identify that it was Wood who was placing the flags around town.
"He said Mr. Darrell Wood was responsible for putting up all the flags in the city of Benton which made it so magnificent," Farmer said.
Farmer added that Wood's efforts inspired him to put flags up on his own street. Wood put up more than 60 flags around the city.
"For that, I want to recognize him and thank him," Farmer said.