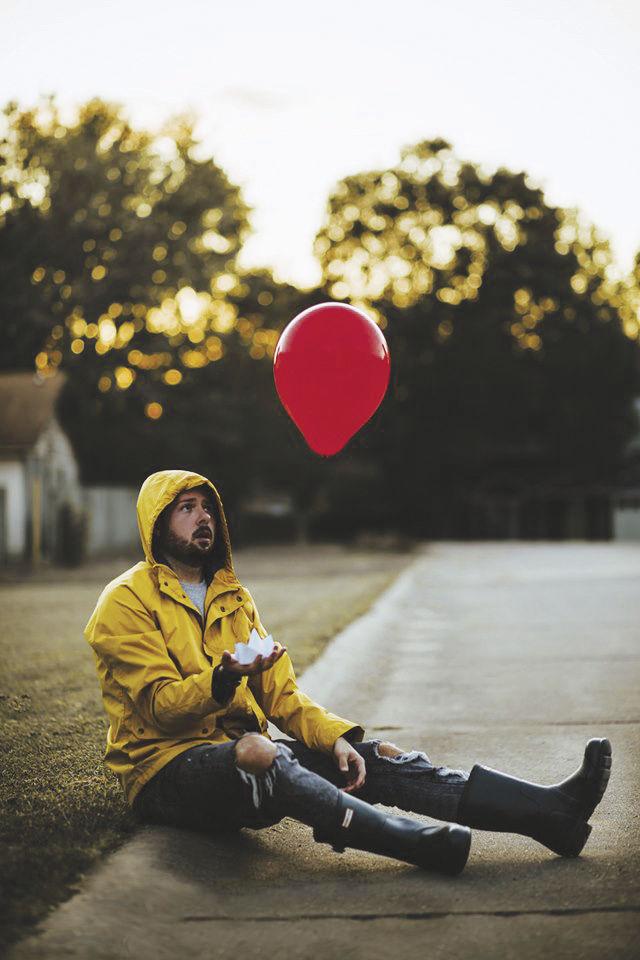 One local photographer is showing off his love of scary movies with a new project, "31 Days of Horror."
Benjamin Martin, of Benjamin Martin Photography, said usually each October he and his friends get together to watch a scary movie every night. This year instead they have been getting together to create a scene from a different movie from Martin dressed as Georgie holding a red balloon from "It" to one of his friends suspended above a bed in a scene from "The Exorcist."
"I wanted to do something to push me out of my comfort zone," he said. "I love Halloween."
Martin said horror films are his favorite types of movies. His favorite is "Scream" which he portrayed on Day 6.
His friends help out by holding props, shooting pictures and being in some of the photos.
In his normal work, Martin is a wedding photographer. He also shoots engagements and bridal portraits. His work is typically bright and happy.
Martin has had his business for nine years and has lived in Saline County for five. He works primarily on location.
While he loves what he does, this project gave him the chance to get back to some of his more artistic work he did when he originally started shooting photos.
"It kind of brought me back to why I started photography in the first place," Martin said.
One of Martin's goals with this project was to do many of them as self portraits. He said he is in quite a few of them, but not as many as he originally planned.
Martin said he underestimated just how much work it was going to take to do this project. It takes him hours to plan each shoot and more time to actually pull them off.
"It has been a big effort with all my friends," he said.
He loves that he has been able to do a variety. The photos are not just typical gory horror. There are some he describes as more whimsical and others he feels are beautiful. He didn't want any of them to be bloody and scare any children who might see them.
Martin joked that the one true horror of the process was when he spilled fog machine juice in a $4,000 camera ruining it. His upside to that disaster was that it forced him to switch to a different style of camera that he needed to.
Martin plans to finish off the series today with a scene from the movie "Halloween."
Other movies included were "Us," "The Shining," "Carrie" and "The Ring."
He has already had many requests to buy the work. He is looking into making photos available for purchase, possibly in a photo book.
While he plans to take a break from these types of photos for a while, he is considering another series in the future.
The photos from this series are available to view on the Benjamin Martin Photography Facebook and Instagram pages.
Martin's work and information about using his services can be found at www.benjaminmartinphotography.com. Anyone with questions can fill out their information and he will try to get back to them within 24-hours.