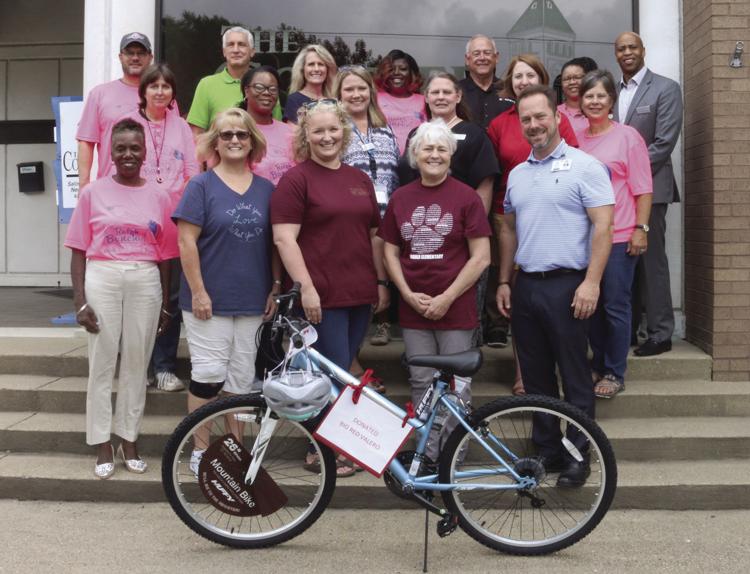 The annual Ralph Bunche Back to School Picnic will help families get ready to send their children back to school in the Benton School District. 
This year's picnic will be from 9 a.m. to 3 p.m. Saturday, at Ralph Bunche Park in Benton. 
It is put on by the Ralph Bunche Community Action Committee in partnership with Northside Church of Christ. 
"We want to equip them to walk in ready," said picnic organizer and founder Oveta Pledger. 
She added the picnic, in its 17th year, is open to any student in the Benton School District. 
Churches across the Benton community have been collecting supplies assigned to them by volunteer Sue Shults. 
They will be dropping supplies at Northside Church of Christ until 2 p.m. today. Anyone wishing to donate additional supplies can contact Shults at 501-317-7601. Any donor needing a tax write-off form should also contact her. 
Families will start out by registering when they arrive. Parents or guardians must be present. Pledger said the organizers do not ask families to show income, but the student must be attending Benton School District. 
The child will be able to pick one of a variety of backpacks. Pledger said there are multiple styles and colors. She does not want children to be teased because their bag identifies them as having received a "handout." 
After they have picked their bag, each child will receive a card. They will need to visit each of the information booths that will be set up to have their card stamped. When it is filled out, the child will be able to go and play. Each card will go in a bucket where organizers will draw the winner of a new bike from Big Red Stores. 
There will be a variety of information booths, including the school district and a wood workshop put on by The Home Depot. Anyone interested in a booth can contact Linda Smith at 501-315-1121.
Saline Memorial Health System will offer health screens as well. 
Families will be able to choose back to school clothing for their children and register for new shoes from Samaritan's Feet. Pledger said only those who register at the picnic will receive shoes. They will be available from 3 to 6 p.m. after the picnic at First United Methodist Church of Benton. 
During the picnic, children will be able to enjoy a water slide, inflatables and entertainment. DJ Jammin GP will provide music. 
Volunteers Edna and Jimmy Batterton will prepare a free lunch of hamburgers, hot dogs, baked beans, spaghetti, desserts and drinks. Everett Buick GMC donated food for the lunch. They expect to serve at 11:30 a.m. 
Benton Superintendent Dr. Mike Skelton will speak about the school district. Benton Mayor Tom Farmer will speak about his goals and Benton Police Chief Scotty Hodges will also speak. 
Pledger said the Benton football team will bring in the supplies and backpacks. 
In the event of inclement weather, the picnic will move to the Benton High School field house at the Benton Athletic Complex. 
The backpacks will be distributed at 2 p.m. 
Pledger said the organizers are still accepting supplies, picnic items and financial donations. Anyone who wishes to make a financial donation can stop by any Regions Bank and put it under the Ralph Bunche Community Action Committee. 
Anyone wishing to volunteer should register at the volunteer booth and then find a staff member to tell them what to do. 
Pledger started the picnic after seeing children at her son's school who did not have supplies. 
"It was a no-brainer," she said. 
She wanted to give them something fun before they go back to school while also getting them the supplies they need. 
She added it has grown throughout the years. On average, the picnic serves 500 to 600 students each year. 
The platinum corporate sponsor for the event is Everett Buick GMC. The gold presenting sponsors are Golden "K" Kiwanis, Big Red Stores and Walmart. The remaining sponsors are Benton Middle School, Ringgold Elementary School, Angie Grant Elementary School, Caldwell Elementary School, Roberson Insurance & Associates, McClendon's Appliances, Lawrence Clark, Rick Spivey Insurance, Michael and Ann Clayton, CADC, Dr. and Mrs. Don Brashears and Saline Health System.
"All the money comes from our community to help our kids," Pledger said. 
T-shirts for the picnic are on sale at the Sports Shop in Benton, located at 1212 Military Rd. She said to buy them people need to call 501-315-1212.
For more information about the Ralph Bunche Back to School Picnic, contact Pledger at 501-909-9535.