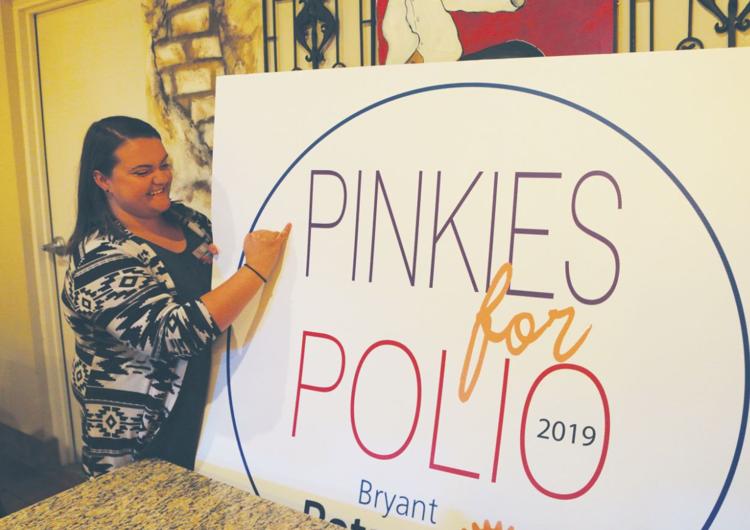 The Bryant Rotary Club is using pinkie prints to help fight Polio with its Pinkies for Polio fundraiser, which will run Monday through Thursday. 
Thursday is Polio Awareness Day. 
"Pinkies for Polio is a marketing campaign put together by the Bryant Rotary Club to raise funds and awareness for polio awareness," said Rotary President Shelby Joiner  noting October is Polio Awareness Month. 
Joiner explained that Rotary International has polio eradication as its mission. This year there are currently 86 reported cases of polio, primarily in Afghanistan and Pakistan. There were up from three cases at the end of 2018. 
Joiner and club member Emil Woerner plan to visit businesses around Saline County during the week. At each business, employees will be able to pay $5 to put their pinkie print on a 4-foot-by-4-foot board. Joiner said they do pinkie prints because when a child gets the vaccination, the workers paint the child's pinkie purple to indicate they have been vaccinated. 
Each $5 will be matched twice by the Bill and Melinda Gates Foundation, bringing the contribution to $15. The cost to vaccinate a child is $3 so every $5 donation for a pinkie print ends up vaccinating 15 children. 
According to Rotary.org, Polio is a paralyzing and potentially deadly infectious disease that most commonly affects children under the age of 5.
Rotary International has been working to eradicate polio for more than 30 years. 
Last year, during the first Pinkies for Polio, Rotary raised $500 and collected 100 prints. With the Gates Foundation match, it ended up as a $1,500 contribution. 
Joiner's goal this year is to raise $1,000 and get 200 prints. 
She plans to showcase the prints in the Kids Closet after its expansion finishes. 
Joiner said because Rotary is all about the community, the members wanted to get the community involved and make them aware of the need to finally see polio eradicated once and for all. 
So far, 10 businesses have signed up to take part. Joiner said it should only take about 10 minutes for individuals to make a donation, though she is willing to stay longer if a business wants to give customers the chance to put their pinkies on the board. 
She said Rotary goes to the businesses because she understands many employees can't just leave to do something like this. 
"We come to them," she said. 
Joiner said anyone is welcome to visit the organization when members meet at noon Thursday at Luigi's Pizza and Pasta to take part in the Polio Day celebration. The meal is free for first time visitors. 
Jennifer Lancaster will be speaking about the Lancaster Animal Project. 
Any business that wants to sign up to have Rotary stop by can call Joiner at 501-209-1113.