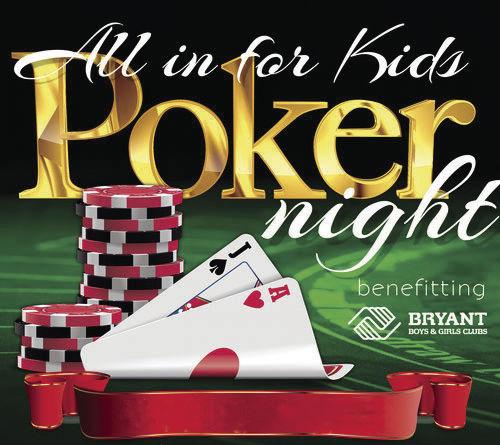 No matter what hands are dealt, the Boys & Girls Clubs of Bryant's newest fundraiser will be a win for the children it serves. 
Bryant Alderman RJ Hawk will be hosting All In for Kids Poker Night starting at 5 p.m. Aug. 3, at The Center at Bishop Park to benefit the Boys & Girls Clubs of Bryant. 
"It is an opportunity for us to reach out to the community and invite people who may not have heard about the Boys & Girls Clubs," said Karissa McDonald, resource development coordinator. "They can come play fun games for a good cause."
This is the first time for the event. 
Hawk said he got involved when he spoke to Clubs' CEO Suzanne Passmore about a summer fundraiser. He told her that he had organized a charity poker tournament for cystic fibrosis and raised $8,000 with only 23 players. For this event, he hopes to have many more. 
According to Hawk, in Arkansas, poker tournaments are legal as long as the prizes are donated and are not cash. 
Players will buy in for $100 each. The top 10 players from the night will earn prizes ranging from a gun to dinner package from the Butcher Shop in Little Rock to a safari hunt. 
"We are really excited about the prizes that have been donated," McDonald said. 
Anyone who would like to donate toward one of the top 10 prizes can contact McDonald at the Boys & Girls Clubs by calling 501-653-5437 or email karissa@bryantbgc.org.
The buy-in includes $100 in chips. Players will have the option to buy back in to continue playing if they run out. Dinner will also be included in the cost of the buy-in. 
Hawk is excited that 100 percent of the proceeds from the event will go into the Boys & Girls Clubs. 
He thinks it is a great event for those who do not normally take part in the Clubs' other fundraisers because it is different than what is normally offered. 
He hopes to see people from Benton, Malvern, Little Rock and other areas take part in the poker night. He encourages people to bring their buddies. 
The vision of the Clubs is "to provide a safe, fun and positive club experience for every child who walks through our doors by engaging them in life changing programs and surround them with caring adult mentors that help create their path for a great future."
Each year the Clubs serve more than 1,500 children and surrounding areas, according to the Clubs' website. The programs focus on academic success, good character and citizenship and healthy lifestyles. 
"The Boys & Girls Clubs are a safe haven for youth out of school," McDonald said. "It is a place where kids learn and develop skills to help them succeed in life."
She added the children who attend are future doctors, teachers and leaders. 
"We want to set them up and put them on a path to success," she said. 
McDonald said each table at the event will seat eight. She expects 12 to 15 games to be played at a time. The organizers are hoping to have 100 people attend. 
"We wanted to focus on making this a good experience for players," she said. 
Dealers and tables will be from True Professional Poker. 
A cash bar will be available during the event. 
Westrock Landing is the top sponsor for the fundraiser. The other sponsors are Taziki's Mediterranean Cafe, Bank OZK, First Electric Cooperative and Chariss Music Group. The Clubs are accepting additional sponsors. 
To attend, players must be 21 or older. 
To register in advance, visit www.bryantbgc.org/poker. Registration will also be available the day of the event. McDonald said they will be able to accept cash, card or check.
"If you are a poker player and enjoy playing poker, come out and support the kids," Hawk said.