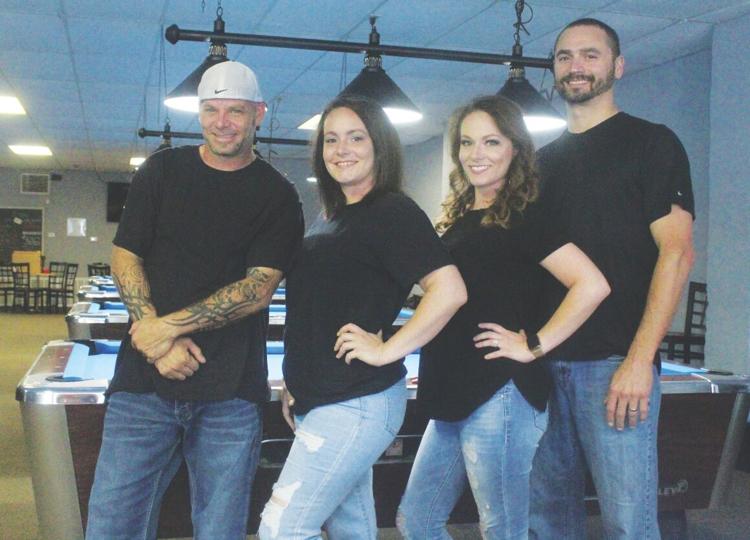 Buying a business during the middle of a worldwide pandemic may be asinine to many.
However, four locals are hoping they have purchased a diamond in the rough as they look to bring a once entertainment hot spot back to its glory days.
Zach and Courtney Remsing and Jeremy and Jordan Palmer are the new owners of CJ'z Downtown Billiards on W. Sevier Street, directly across from the Saline County Courthouse. 
Formerly known as Break-N-Run, JC's, Big Dan's and Downtown Billiards, the pool room has been a staple in Saline County for decades.
"This just kind of fell in our lap," Zach said. "Since we are dedicated to pool, we knew it needed some love. I grew up playing in here. It needed a bit more love than what was able to be shown."
CJ'z has a number of options for customers, featuring a big screen TV, more than 10 pool tables — $.75-per-game action or pay-per-hour options — weekly tournaments for all skill levels, American Pool Association league nights, a jukebox, karaoke nights, a full kitchen with a broad menu, many varieties of beer and drinks and more.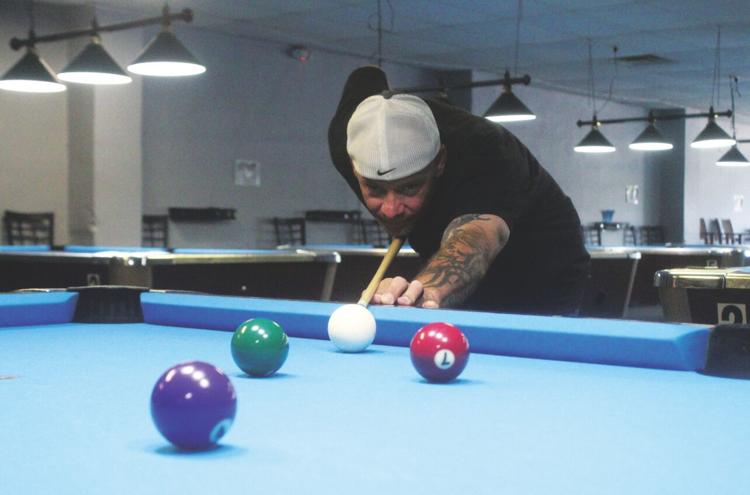 Zach said he is going to try karaoke night and see how the turnout is before bringing it on as a must-have for the business.
CJ'z has already shown two UFC fights and hopes to advertise upcoming matches a bit more to bring in a larger crowd.
Opening in June, Zach says he and his partners have "already exceeded expectations."
We wanted to get it running and make a little money, but mainly get some of the old customers back in here that never came (under recent ownership)," he said. "All of a sudden you have a bunch of people that haven't been here in 10 years who are coming back. To me, it is all about the people and the community. Especially for pool players. 
"On the weekend, we will get a good crowd of non-pool players who just come in to play around and that is what it is all about."
Zach said he plans to continue hosting tournaments most every weekend.
"We are having a pretty good turnout in some of our tournaments, especially in our pop-ups, which is weird," he said. "Once we start getting on schedule, it will probably grow."
As for leagues, Zach said the plan is to start an APA Monday night Saline County travel league, which will be played at venues such as CJ'z, the Moose Lodge on U.S. 67 and Gino's Bar and Grill.
"There are a few more spots," Zach added.
He said he also plans to have another league night during the week.
As for playing in the historic venue as a teenager, Zach said he never dreamed he would one day have his name on the owner line of the contract.
"Not in a million years," he said. "We thought it was a joke at first. Then six days after the 'joke' happened, we signed paperwork on it."
Already, Zach and his partners, who include his wife and brother- and sister-in-law, have remodeled the inside of the facility, adding new wall coverings and paint.
Zach said there are more plans in the works, including wall decor and carpeting. 
"We are going to try and expand the kitchen a bit more and eventually expand the bar," Zach said. "For now, we are working with carpet, finishing the island and finishing the walls."
For pool players, Zach said the facility will have a number of retail items, from cues to cases to all the accessories needed. 
"We are talking to a few vendors now to see what our best option is," he added. "We just don't want to jump on something and not like the results."
CJ'z Downtown Billiards is open from 5 p.m. to 10 p.m. Tuesday through Thursday, 5 p.m. to midnight Friday and 2 p.m. to midnight Saturday.
The business will also be open Sundays when there is a tournament scheduled.
For more information, call 501-316-4034. Also, like CJ'z Downtown Billiards on Facebook for updated league and tournament information.