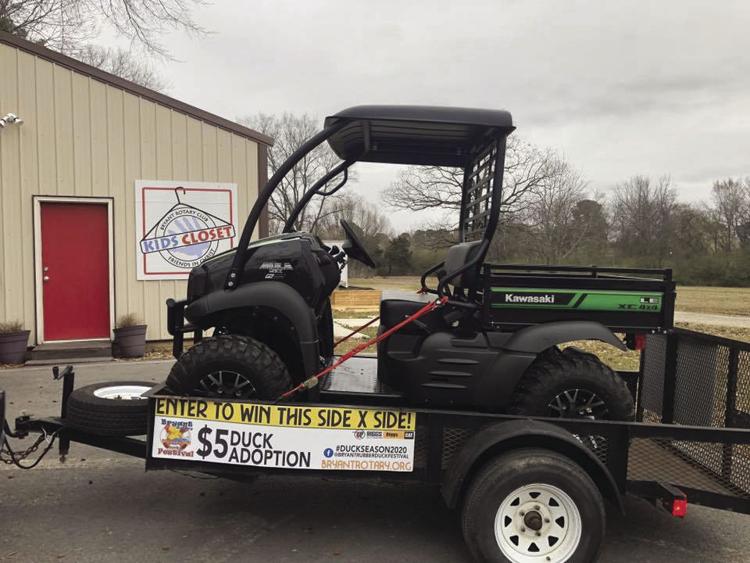 To promote duck adoptions for the Bryant Rotary Rubber Duck Derby, the Club will hold a Facebook Live event — Duck, Duck Pie-In-The-Face — from 6 to 8 p.m. June 25.
The sales of duck adoptions will help the Club finish the expansion of the Kids Closet to allow it to serve even more children in need in Saline County.
"(The event is) to spread awareness of the duck adoptions ahead of the Duck Derby Race," Rotary President Shelby Joiner said.
For the past few years, the Club has adopted out its ducks by early May and held a free family festival at Mills Park where the members race 5,000 rubber ducks down a man-made river. COVID-19 not only canceled that event, but also delayed duck adoptions.
Joiner said the Club plans to hold the derby after all 5,000 ducks have been adopted.
Duck adoptions are $5 each. Adopters will get a ticket corresponding with the number on a duck. The first 10 ducks to cross the finish line will win their adopters one of 10 prizes valued at more than $500 each.
As with the previous few years, Riggs Catt Riggs Outdoor donated a Kawasaki side by side as the top prize. It will be on display during the Facebook Live event.
The remaining prizes are a diamond pendant, an African safari experience, a $500 Visa gift card, a Chick-fil-A package, a backyard barbecue makeover, a $500 gas card, one year Zips Carwash Membership, a one year membership to UrbanAir and a Xbox1 gaming console.  
Joiner said Rotarians plan to be at Friends In Christ Lutheran Church, 4305 Arkansas 5 N. Bryant, from noon to 8 p.m. for anyone who wants to adopt a duck in person. Tours of the Kids Closet will be available. The Facebook Live event will also include a Closet tour.
Rotarians plans to have Baggo set up for anyone who wishes to play.
Whenever a goal for duck sales, online or in person, is reached, a Rotarian or local celebrity will get a pie in the face. Those adopting ducks online can nominate one of the people on site to get the next pie.
While there will be Rotarians and people purchasing adoptions on site, Joiner emphasized the event will follow social distancing guidelines. It is being held out of doors.
Ducks are available for adoption through the Facebook event link, online at www.bryantrotary.org, from The Greater Bryant Chamber of Commerce or from any Rotarian.
"I would really like to see the community rally our the Kids Closet and get the ducks adopted out," Joiner said.