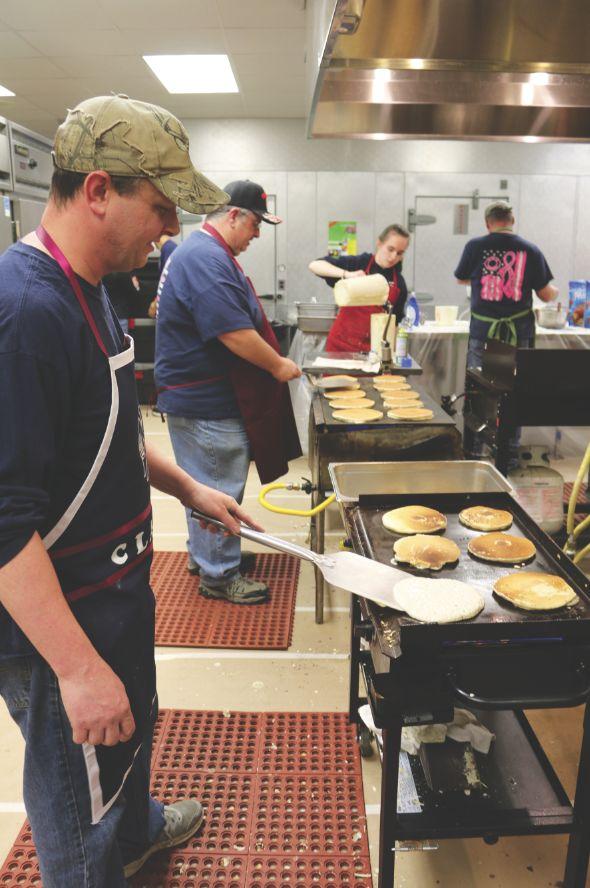 Helicopters, fire trucks and pancakes will all be featured during the Salem Fire Pancake Day, from 6 to 11 a.m. March 7 at Salem Elementary School, 2701 Salem Rd. in Bryant. 
"It is a great time for Salem residents to see us when we are not coming to their house for an emergency," said Laura Gerrald, office manager and volunteer fire fighter. 
She added many residents use the event as a chance to catch up and mingle with others in the community. 
Diners will be able to pay $3 for all-you-can-eat pancakes, sausage, coffee and milk. Children under 6 eat free. 
Gerrald said the price hasn't changed in the 35 years the district has held the event. 
The breakfast will be prepared and served by the fire department members. 
Starting at 8 a.m., Gerrald said, different helicopters are scheduled to land every 30 minutes for children to check out. The helicopters will be from Med Flight, Pafford, LifeNet and Survival Flight. 
There will also be fire trucks from different departments on hand. 
While only the Salem department is scheduled to serve food, Gerrald expects other departments on hand to support the event. 
"Everyone supports everybody," she said. 
There will be a silent auctions with items from local businesses from around the community to bid on. Any business or individual that wants to donate to the auction can send Gerrald a message on the Salem Fire District's Facebook page or drop it off at Station One, 1785 Salem Rd. in Benton, between 9 a.m. and 5 p.m. on Mondays and 9 a.m. to 9 p.m. on Thursdays. 
Raffle tickets will be sold for the chance to win an inflatable rental from Space Walk. 
Each year area politicians attend the breakfast to talk to the community. 
Gerrald said this fundraiser helps the department purchase items that don't fit in its normal budget. In previous years, it has paid for gas monitors and T-shirts for the firefighters. 
Each year, Gerrald said, the event feeds an estimated 700 people. 
She is thankful for the community's support and the appreciation it shows for the volunteers. She said many people don't realize it's an all volunteer department. 
"It's nice when they come out and learn that," she said. "Everyone in the community means a lot to us."
Gerrald encourages the community to stop by and enjoy some pancakes.