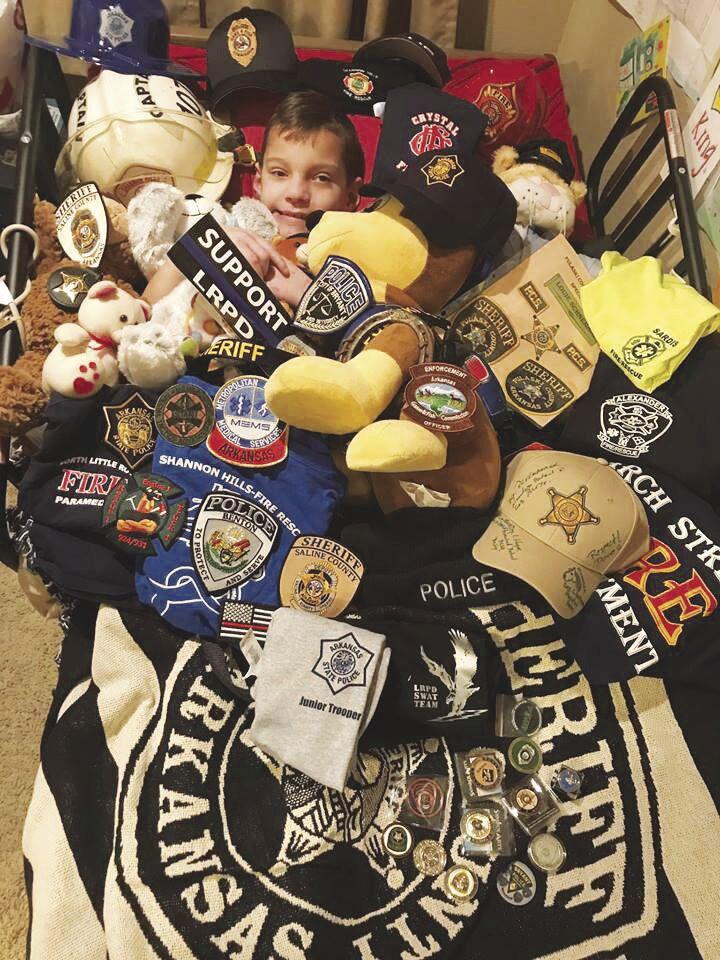 Many in Saline County know the story of young Louie Schneider, who is now 11, and his brave battle against a myriad of health issues.
According to new court records, Louie was subjected to a type of abuse called Munchausen's syndrome by Proxy.
Munchausen's involves a parent or guardian who deliberately makes their dependent sick.
In Louie's case, the court said that he was deprived of necessary nutrition and medical care. His parents, Kristy and Erik Schneider, were also found to have been dishonest with his doctors.
In late 2019, Louie was removed from the Schneider home. In November of that year, an adjudication hearing found that the Schneider's were unfit parents and that Louie had been a victim of Munchausen's. A search and seizure warrant was executed and all court records pertaining to the case were sealed.
The Schneider's filed an appeal concerning the court's findings. On Wednesday, that appeal was denied.
In Judge Waymond Brown's response, new details concerning Louie and his life with the Schneiders have now come to light.
When The Saline Courier shared the first of many stories following Louie, his adoptive mother Kristy told former Courier reporter Sarah Perry that Louie had a chromosomal abnormality that caused developmental delays. Eventually, he began having gastrointestinal issues. In 2017, he started having seizures and his body began to decline.
His health issues came to a head in December 2018, when he had to spend six weeks in the hospital for cardiac issues. Louie received a pacemaker, but his blood pressure continued to be low, his mother said.
When Louie took what everyone thought would be his last trip from his home to Arkansas Children's Hospital, he was accompanied by more than 100 first responders. He was not expected to live much longer and had even entered hospice care, but defied the odds with his continued survival.
According to court documents, along with treatment at ACH, Louie was also admitted to Cincinnati Children's Hospital and "placed in the pediatric intensive care unit due to issues with his heart rate and blood pressure," according to court records.
While at ACH, court documents say Louie received a feeding tube and a pacemaker. He was discharged from ACH in hospice care and prescribed fentanyl and morphine.
Louie's palliative care team determined in February 2019 to remove his feeding tube and send him back to ACH for what were believed to be his final days before natural death would occur.
After removing the feeding tube, nine days later Louie continued to improve and "appeared to look better than he had in months." He was sent back home after spending about a month in ACH.
Court documents state that Louie then received care at the Mayo Clinic in Rochester, Minnesota. While being seen by a number of complex care doctors, he was given a new heart medication and the doctors did not believe he was a candidate for hospice care. It was determined he would slowly be weaned off his pain medications. A port was placed in his chest.
Court records show that the Arkansas Department of Human Services received a hotline report July 20, 2019 concerning Louie and two other biological children in the Schneider home, but not the Schneider's other adopted child. The tip indicated that Kristy was causing the children to be ill.
A second tip was given to DHS on Sept. 11, 2019, that Kristy was misrepresenting the severity of Louie's condition and causing him "unnecessary medical care and interfering with knowing how to care for him."
It was also alleged that she provided false information regarding his pain and giving false information between his different medical providers.
The court heard testimony from a number of prominent doctors,  including Louie's primary care physician, Dr. Repp, who testified that she found it odd that Kristy once commented that Louie "did a bad job of dying."
Court records say Repp also testified that Kristy called her office Sept. 3, 2019, with concerns that Louie's port site was infected which can be very dangerous. Kristy was told to take Louie to the ER for evaluation. Repp later learned that he was not taken to the ER, but was instead on a float riding in a Saline County parade. He was brought to the ER the following day.
Repp also testified that she witnessed a number family interactions that concerned her. One such incident occurred at the ACH therapy pool where the Schneiders held a farewell party and private Baptism ceremony. The event was scheduled after it had been determined to remove Louie's feeding tube to allow natural death.
"Dr. Repp was concerned that (Louie) was notably upset at the baptism and neither Mr. nor Ms. Schneider comforted (Louie) at all. Although, at one point his brother did approach him and comfort him," the court records said.
Both Repp and Dr. Karen Farst, director of the Team for Children at Risk at ACH agree with the diagnosis of Munchausen's by Proxy.
Repp has seen Louie three times since he was removed from the Schneider home. Prior to that, he always appeared malnourished, quiet and often in a wheelchair with oxygen. In the three times since, he has gained weight and was walking and jumping around.
Court records also indicated that Louie's father, Erik Schneider, "contributed to the dependency-neglect of the juvenile."
"Mr. Schneider is not a fit parent who can meet the juvenile's medical, emotional and physical needs," the court said. "He has not demonstrated that he can protect his child from unnecessary medical treatment."
No charges have been filed against the Schneiders at the time. The Saline Courier will continue to follow this story.