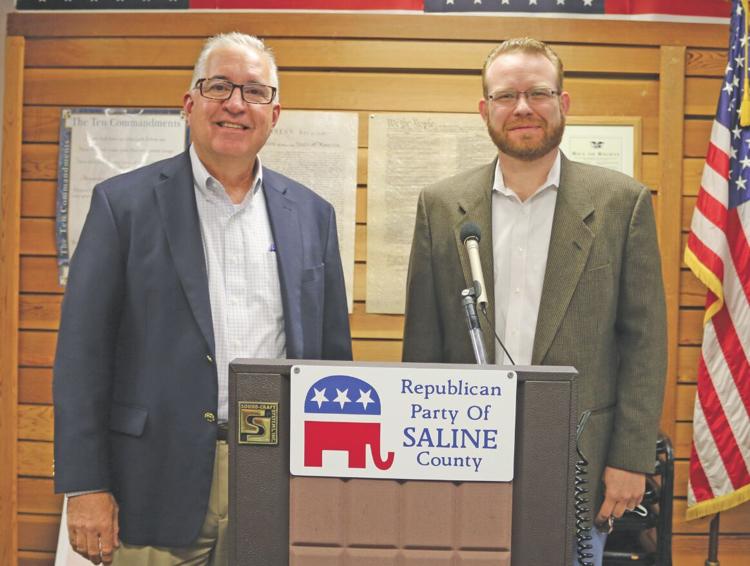 During the Saline County Republican Committee's recent monthly meeting, the group heard arguments for and against Issue 1.
"Issue 1 would amend the state constitution to make permanent a half-cent sales tax, authorized by Issue 1 of 2012, with revenue directed to state and local transportation, including highways, roads and bridges. The sales tax was temporarily authorized by voters in 2012 and set to expire in 2023," Ballotpedia says of the issue.
Saline County Judge Jeff Arey spoke in favor of the Issue. Ryan Norris, state director of Americans for Prosperity, spoke against.
After a coin flip, Arey was chosen to speak first.
"For decades, the Arkansas Highway Department has not been able to keep up with demand," he said.
Arey explained that roads have long been funded by a flat tax on fuel, but vehicle manufacturers have been increasing the milage a vehicle can gain on a gallon of fuel meaning more are on the road. The cost of road maintenance has increased while the funding has stayed flat.
"We need a long term revenue source," Arey said.
He said while highways are important, Issue 1 affects counties and cities and their ability to maintain roads.
Arey said Arkansas has more than 50,000 miles of roads and more than 4,300 bridges. Of those, 800 bridges are "functionally obsolete" and 360 are "structurally deficient." Some have weight restrictions that are less than the weight of a loaded school bus.
In Saline County, he said there are 1,100 roads maintained by the county, equaling 700 miles, and 26 bridges. Of those bridges, 16 are functionally obsolete and two are structurally deficient.
He added the problem was much worse eight years ago when the tax was originally passed.
If Issue 1 fails, the county will lose $1.1 million in road funding, which he said would make for a challenging budget. Benton would lose $700,000. Bryant would lose $400,000. Haskell would lose $100,000. Overall, the county would lose more than $2.5 million combined.
He said it is an amendment because that was how it was passed in 2012 and the legislature wanted to give Arkansans the chance to vote on the issue.
He said there is no sunset because there is no sunset on the need for roads. This will allow for longterm planning.
"Maintenance on roads and bridges is never going to end," Arey said.
Norris agreed that roads are important.
"We are not arguing for bad roads," Norris said.
He said the issue technically does not have to be in the Arkansas Constitution. He told the crowd the elected officials in the General Assembly could have made the sales tax permanent.
"That probably would not have played well in politics," he said, calling the issue the politically safe way to pass it.
He said those pushing Issue 1 are trying to guilt voters into passing by making them feel it will be their fault if it fails and roads are not maintained.
Norris said he has not found an elected official who prepared for the tax to sunset as originally passed and ARDOT has no plan B if Issue 1 fails.
He complained that Arkansas has the second highest combined state level sales tax in the country.
"We are a poor state," he said.
Not combined, he said Arkansas' sales tax is ninth highest in the nation.
Without the tax, he said the money that goes toward it would be spent locally.
He said Arkansas is the 15th highest in the nation on spending on roads per capita.
"Issue 1, we believe, is an extension of some bad policy," Norris said.
He expressed concern that ARDOT claims it does not have the funds to maintain its current roads, yet, plans to build 1,700 more miles of roads.
He cited the Guidehouse report which said only $190 million of a $2.6 billion budget was used for maintenance.
"The question is where has that money been going?" Norris said.
He said ARDOT is currently under audit by elected officials, who have found waste and inefficiency.
He feels the turn back funds should go to counties because he trusts county judges more.
He wants elected officials to reform ARDOT before giving it more money.
He thinks during the next two and half years before the tax runs out, the state needs to look at alternatives and ensure the money is being spent efficiently and effectively.
In answer to a question, it was explained ARDOT is over seen by a panel of five commissioners appointed by the governor to serve for 10 years.
In the question-and-answer portion of the meeting, Arey said the last two governors have had Blue Ribbon Commissions look at this issue and Issue 1 had the most support.
Norris said state Rep. Julie Mayberry put forth a bill to use the sales tax from the sale of cars and car parts to fund ARDOT. When the half-cent sales tax was originally passed, it was to allow time to migrate car sales tax to ARDOT. It did not have popular support.
In answer to a question, Arey said the number of roads that can be made toll roads is limited.
Arey said if Issue 1 is not passed not only will the county have some hard decisions to make about its road budget, he knows from experience as a former city mayor, cities will also have hard decisions to make. Some remote roads may have to go back to gravel.
Norris said maybe the county could put that halfcent sales tax to pay directly into county roads.
"Whichever way you vote on Issue 1, make sure you vote," Saline County Republican Chair Steve Lux said.