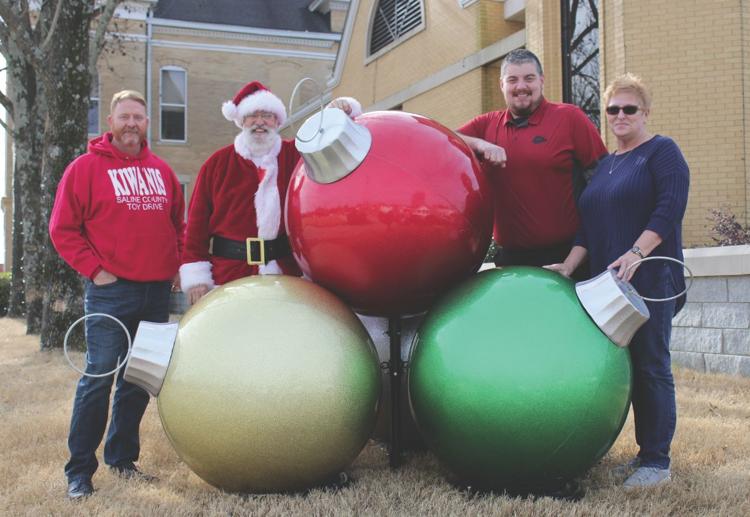 From 8 a.m. to noon Saturday, members of the Saline County Kiwanis Club will be at the Benton Walmart collecting toys for children in need for Christmas. 
The community service organization is teaming up with the Churches Joint Council on Human Needs to ensure children in the area have toys under the tree Christmas morning, according to toy drive organizer Lisa Roth. 
Families can sign up through CJCOHN to receive a basket of food for Christmas and toys for their children. Each family will go to CJCOHN on Dec. 21 and receive their food. They will be given a slip and information about where to pickup the toys. 
Last day to turn in applications for the distribution is Friday. All forms must be completed and returned to CJCHON. Photo ID is required.
Roth said they never know how many toys they will need until CJCOHN lets them know when signups are over. In the past, they have given to more than 1,000 children. 
The group fundraises and collects toys throughout the year. 
This drive will be one more way they can collect. 
Even after distribution day, Roth said, they help when CJCOHN has families who have needs up until Christmas. 
Roth said Kiwanis is collecting toys for children who are infants up to the age of 16. They need everything from bikes to games to electronics. They can also take baby items. 
The Elf Club at Benton Middle School helps collect and purchase toys. The Dixie Car Club helps each year with distribution and provides electronics. 
Also, the Benton High School Key Club lends hands in preparation leading up to the event.
Roth said Kiwanis could not collect and give so much if not for their partners and the community, which she said is always very generous. 
Kiwanis divides the items based on age appropriateness and allows parents or guardians to pick out the gifts. 
The group has been collecting toys for more than 30 years. 
New this year, patrons will be able to purchase and donate toys are nearly every Dollar General location throughout the county.
The following stores are not participating in this year's event due to prior agreements:
Roth said Kiwanis is all about helping children in the community. She added that it means a lot to her to be able to give back and all the members feels it is important to ensure children have a great Christmas. 
She encourages the community to drop off a toy at the toy drive to help make a child smile on Christmas day.