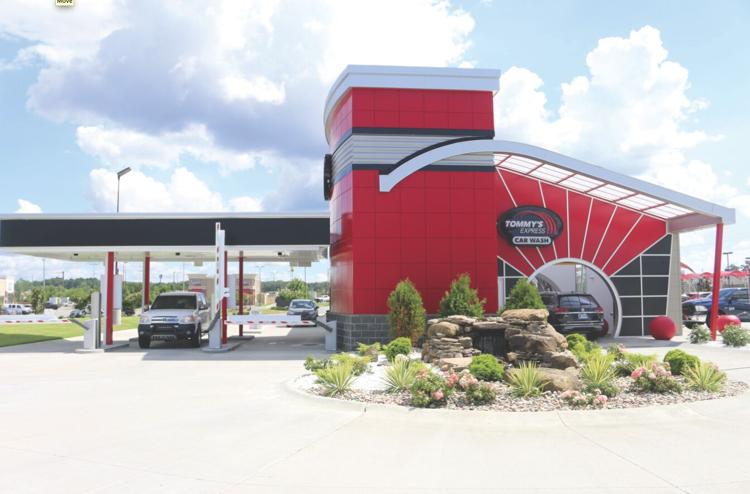 Tommy's Express Car Wash, located at 2000 Arkansas 5 in Benton, is the newest automatic car wash in Saline County and it offers a more open experience.
Manager Jeff Powell said the more than 100-foot-long conveyer belt car wash system is designed to not have the enclosed claustrophobic feel of many automatic washes. It is housed inside a glass facility to allow in the sunlight.
Powell said the system uses soft brushes and wraps to provide a quality clean while avoiding the risk of paint scratches.
Tommy's Car Wash is a franchise owned by Nick Warren, Ryan Kibler, George Stem and Sean Stem. They also own a location in Jonesboro. They wanted a close-knit community they could be a part of for the new location.
It has been open since June 21.
The wash has three lanes for customers. The first is best for first-time visitors to purchase a membership or single wash. Returning customers use the second and third lanes which reads their license plates to see what plan they have. Powell said some other car washes use RFID tags, but Tommy's uses reading license plates because it is more reliable.
Powell said the wash is self loading with loud speakers giving directions.
A staff member stands at the entrance to help ensure customers don't have difficulties.
The wash includes a prewash and two sections of brushes to ensure vehicles are double cleaned.
Eighteen dryers, including two heated dryers, make sure every vehicle more dry.
Powell said the Tommy's system can do 200 vehicles per hour. In Jonesboro, they do on average 1,200 vehicles a day. Powell wants to beat that in Benton.
With a full line, Powell said customers can go from the back of the line to wash to finished in 5 minutes.
After the wash, customers can use one of the 18 free vacuum cleaners Tommy's has on site. Each vacuum uses its own independent system so that each vacuum is not affected by the others. The vacuum bays have hoses on each side so customers do not have to stretch them across their vehicles.
Powell said one of the benefits of the large open-style wash is it can wash larger vehicles, such as dually trucks. It can fit vehicles up to 84-inches tall
The car wash has 15 employees to help customers have the best experience. The staff member at flight deck one helps customers purchases washes and memberships. The member at flight deck two watches over the system to ensure it is running smoothly.
An employee works in the wash bay ensuring the space, windows and even the wash brushes are clean. Powell said that is particularly important if an extra dirty vehicle goes through. They do not want any dirt or grime to transfer to the next customer.
A staff member also mans the vacuums to keep them clean and the trash cans emptied.
The roles rotate every hour so every employee does every job during the day.
Tommy's offers four wash packages. The quality wash is $8 per wash or $19.99 a month for unlimited washes. The superior wash is $10 per wash or $24.99 a month. The ultimate wash is $14 a wash or $29.99. The works wash is $18 a wash or $34.99 a month.
Powell said the record for unlimited washes is a man who had his vehicle washed 77 times in one month because his grandchildren enjoyed going through.
Memberships are available in one-month and three-month increments. Customers can download the Tommy's Carwash app or purchase memberships at flight deck one. Gift cards are also available.
The app can be used to change memberships as needed.
Because it's a franchise, customers with memberships can use any location.
The wash is open from 7 a.m. to 8 p.m Monday through Saturday, and 11 a.m. to 7 p.m. on Sunday.