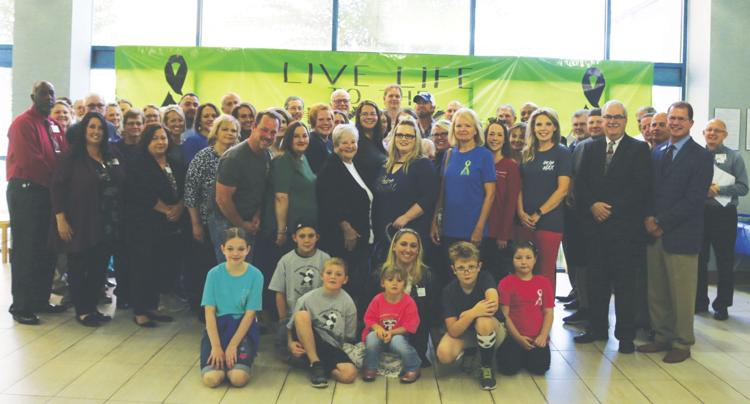 In honor of National PANS/PANDAS Day, the Saline Health Foundation held an event Wednesday at Saline Memorial Hospital. 
Foundation Director Matt Brumley told the crowd it has been three years since Arkansas officially joined the nation in dedicating the day to PANS/PANDAS awareness. 
According to the news release for the event, PANDAS, Pediatric Autoimmune Neuropsychiatric Disorder Associated with Streptococcus, is a serious, complex autoimmune disorder that can affect people, (primarily children) when a strep infection triggers a misdirected immune response, resulting in inflammation of the brain. The disorder is characterized by a sudden onset of neuropsychiatric disorders, including severe anxiety, depression, OCD, behavioral and learning regression, facial tics and more. If strep cannot be linked to the onset of symptoms, PANS, Pediatric Acute-Onset Neuropsychiatric Syndrome,  caused by a different infection should be considered.
Saline Memorial CEO Michael Stewart spoke to the crowd. He said he sees the issue from the point of view of a father and that feeling of desperation to help a child. 
He said he understands those afflicted have not had access to many resources to combat PANS/PANDAS. He believes this awareness day helps ensure parents have the resources they need for diagnosis, treatment and education. 
He said the health system is proud to partner with the health foundation. 
Physicians Assistant Natalie Bradford also spoke. Brumley said without Bradford, the foundation and patients wouldn't be where they are today. 
Bradford said she has been treating PANS/PANDAS for two years. She understands the struggles, but said what she wanted to share was the stories of hope. 
She shared about a boy who was 10 and suffering from rages when she began treating him. With the help of antibiotics, he is 12 and in remission. 
She spoke of a girl who had her second relapse and was able to get IVIG treatment through collaboration with the girl's primary care provider. Bradford said the girl is 95 percent back to how she was without PANS/PANDAS. 
She spoke of another boy battling severe depression as a result of the disorder and whose grades had been failing. She said now he is an A and B student. 
She encouraged those affected in the crowd to share their stories of hope so that people can see that each story is different because each child is different. 
While introducing State Sen. Kim Hammer, Brumley told the crowd he became aware of PANS/PANDAS in January of 2017. When he learned of it, he reached out to Hammer and they began working together. 
Hammer told the crowd that out of tragedy had come triumph. Those triumphs include raising awareness, getting more individuals in the medical profession to realize PANS/PANDAS is real and the formation of a PANS/PANDAS advisory council that includes members of the House and Senate and various experts. 
He said soon Saline County will have the first clinic for treatment in Arkansas and the first west of the east coast. 
Brumley finished by saying that the large crowd in attendance is very different from the first event three years ago. 
He explained that those with PANS/PANDAS have immune systems that are misdirected and attack the brain. 
He began working on PANS/PANDAS after his sons' friend, Max Wallace, lost his life on Christmas Eve 2016 because of it. He said people have gotten treatment because of Max.