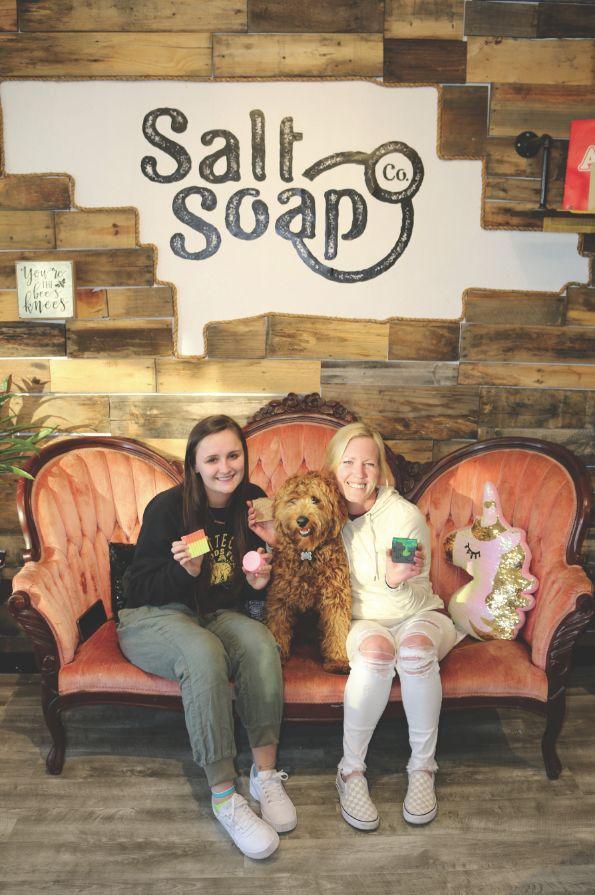 Saline County locals are offering their handmade artisans soap and more at Salt Soap Co., located at 111 West South St. in Downtown Benton. 
"We are a bath store with bath and body products," said owner Colette Collatt. 
The shop sells lotions, bath bombs, scrubs, lip balms, charcoal detox and more. Collatt said if they do not have it they can make it. 
The store is full of various artisan soaps in a variety of scents, from oatmeal agave to fruit loops. All the soaps are goat milk soaps. 
Collatt said when she first opened back in March she offered only a few goats milk soaps, but so many customers preferred the goats milk that as she ran out of different soaps, she replaced them with goats milk versions. 
Collatt explained goats milk has several essential vitamins and it is good for the skin. She said goats milk soap leaves skin soft and healthy. Plus, goats milk soap also gives a creamy lather. 
All the bars are sold "naked" with no wrapper to avoid waste. Collatt feels many people are looking for real natural ingredients, not synthetic ingredients like at big box retailers. 
Collatt believes most people with sensitive skin should be able to use her soaps. 
After getting many requests, Salt Soap introduced bar shampoo and conditioner, which she said has been a hit. When she first debuted the items, customers tried it and gave their feedback. She reformulated and now everyone tells her how much they love it. Collatt said she had to really study it before she created the new products. 
Currently, the shampoo is for normal hair. She plans to eventually branch out to create products geared to different hair types. 
Collatt chose the name Salt Soap because she grew up in Saline County, as did her husband. She was looking for a cute name that paid homage to the community. She thought Salt Soap had a nice ring to it. 
She actually has a phycology degree. She and her husband had a lot going on with their jobs and their families and decided to take a hiatus from work. 
During that time, Collatt got bored. One day while trying to make bath bombs she found recipes for soap. She started practicing. 
"It took a good three months of research," Collatt said. 
Each of the soaps she creates takes four weeks to cure. She had all this soap and no job. That is when the location became available. 
She and her husband jumped at the chance to get it. 
She has had help from high school student, Haley Ziemski, who helps her from sales to creating the products. 
Collatt said Salt Soap has been "wonderfully received" in the community and that people have been so glad to have the store in Downtown Benton. 
Collatt often gives out samples when she has them available. 
"I want people to give it a try," she said. 
Collatt feels her products are comparably priced. Being goats milk, most places like hers sell them at $8 a bar but she has seen others sell them as high as $15. 
She said they are worth the price for the high end ingredients and the fact that, if taken care of properly, they should last a long time. 
To help keep the soaps usable, she offers soap dishes and soap savers for sale in her store. She said the soap must be drained and not allowed to just sit on the side of a tub or counter. 
Along with all the items geared more toward women, Salt Soap also has some for men, including a shaving soap that uses kaolin clay, which she said allows the razor to glide more easily and is very moist. She also offers beard wash, beard oil and several soaps with more masculine fragrances. 
Salt Soap can make up gift baskets for all gifting occasions. Collatt said they are great for the person who has everything. 
She also creates favors for events from parties to weddings to baby showers. 
Collatt also creates seasonal soaps for holidays. She uses melt and pour soap to create molds. She said she can make soap in any shape if she can find a mold. 
She also has smaller soaps for $3, which Collatt said makes great stocking stuffers. Even though they are less expensive, she said they are still high quality soaps. 
For gifts, Collatt said she can put items in a burlap bag. 
She also offers gift certificates. 
Eventually, Collatt would like to eventually offer soap making classes. That is the next thing on her list. 
She would do multi-night classes to teach the whole process and one night classes for parties and events using the more simple melt and pour process. For children, she said she would only do melt and pour because it is safer. 
Collatt said she has many come into the store just to visit Murphy, her golden doodle dog, who is with her most days. 
"Salt Soap wouldn't be the same without Murphy," she said. 
Salt Soap's regular business hours are 10 a.m. to 6 p.m. Tuesday through Saturday. For the holidays, it is open 11 a.m. to 5 p.m. on Sundays and 10 a.m. to 6 p.m. on Mondays.