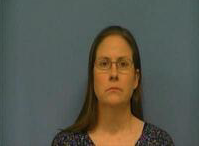 An Alexander woman accused of purposefully presenting false information to doctors, which led to unnecessary medication and medical procedures to be given to her child, has been released on bond after turning herself in on a bench warrant Tuesday.
Kristy Beth Schneider, 42, has been charged with endangering the welfare of a minor, a Class D felony. She was released from the Saline County Detention Center on a $100,000 bond.
While the juvenile is not named in the court documents, Schneider has been previously identified by numerous media outlets, including The Saline Courier as the mother of an adopted son, "Louie."
Many in Saline County know the story of young Louie Schneider and his brave battle against a myriad of health issues.
According to court records investigators now believe that Louie was subjected to a type of abuse called Munchausen's syndrome by proxy.
Munchausen's involves a parent or guardian who deliberately makes a dependent sick.
In Louie's case, the court said that he was deprived of necessary nutrition and medical care. His parents, Kristy and Erik Schneider, were also found to have been dishonest with his doctors.
In late 2019, Louie was removed from the Schneider home. In November of that year, an adjudication hearing found that the Schneiders were unfit parents and that Louie had been a victim of Munchausen's.
It is unknown if the other children known to be in Schneider's care remain with the family or have also been removed from their care.