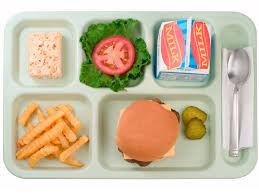 During the daily COVID-19 briefing Wednesday, Gov. Asa Hutchinson and Secretary of Education Johnny Key announced the Arkansas Department of Education is opting in the US Department of Agriculture waiver to make school meal available at no cost through the end 2020.
Key said the USDA announced it is extending several waivers through the end of December. They create flexibilities that not only permit meals to be served at no cost, but also permit meals to be served outside the normally required group settings and meal times and waive the meal pattern requirements. Parents and guardians will be permitted to pick up meals for students learning virtually.
He added this will eliminate an administrative burden for food service workers.
Key said because other funding streams rely on the information, parents still need to fill out and return their meal applications.
More information on how to implement these waivers will be made available to the school districts.
Key said 89 percent of districts took part in the Seamless Summer Program in the spring to provide grab-and-go and delivered meals to students.
Hutchinson also gave an update on the August monthly revenue report. The net available revenue for the month was $41 million of the forecast. The year-to-date net available revenue for the first two months of the fiscal year is $93.7 million above the projected forecast.
He explained that means sales and income tax collections have been up. He believes it is evidence of people's confidence in returning to work and making consumer purchases.
He also discussed the Centers for Disease Control and Prevention moratorium on evictions. He said it was issued to prevent homelessness and people staying in congregant settings. He emphasized it does not mean people do not have to pay rent. Land lords will be able to attach late fees for rent not paid.
The moratorium goes into affect Sept. 4. Those needing relief must file that due to COVID-19 their income is insufficient to pay rent.
That rent will still have to be paid later.
Hutchinson reported 615 new cases of COVID-19 for a cumulative total of 62,112.
Hospitalizations rose by 12 to 435.
Deaths rose by 27 to 841. Secretary of Health Dr. Jose Romero said one of those deaths was from May, four from June, four from July and four from August. Of the remaining deaths, five were in nursing homes with no clusters.
The top counties with new cases are Washington with 67, Pulsaki with 62, Benton with 60, Craighead with 49, Garland with 26, Saline with 21 and Mississippi with 20.
Saline County has had 1,591 cases with 199 active, 1,379 positive, 13 deaths and 20,056 negative tests.
Across the country, there have been 6,088,187 cases with 2,202,682 recoveries and 184,903 deaths.
The state received results for 4,773 PCR tests and 590 antigen tests with 156 positive antigen tests.
More information about today's briefing will be in Thursday's edition of The Saline Courier.