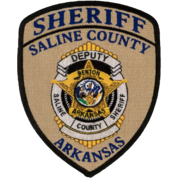 The Saline County Sheriff's Office is seeking a suspect allegedly involved in a sexual assault on Friday.
According to the SCSO, investigators responded to residence in the 3000 block of Peeler Bend Road at 6:30 p.m. on July 30 in reference to a sexual assault that had already happened.
After conducting an initial interview of the victim, it was determined that the suspect and the victim in this case were present at the Peeler Bend 'Alum Fork' River Access before the attack," the SCSO said.  "Upon the victim leaving the area, the suspect followed the female victim back to her residence where he forced entry into the home."
The suspect is described as an adult male, possibly Hispanic, between the ages of 30 to 35, and was driving a black sedan or hatchback type vehicle also occupied by two juvenile males, both between the ages of 6 to 8-years old. A dog was also present in the vehicle. The male was seen wearing a white T-shirt with swim shorts and white Nike shoes. He also had long black hair that was in a bun on top of his head.
This investigation is considered active and ongoing at this time.
Anyone with information in reference to this case is asked to contact the Saline County Criminal Investigation Division and speak with Detective T. Davis at 501-303-5609 or by email at tdavis@scsosheriff.org.
The Saline Courier will continue to follow this story and update as needed.