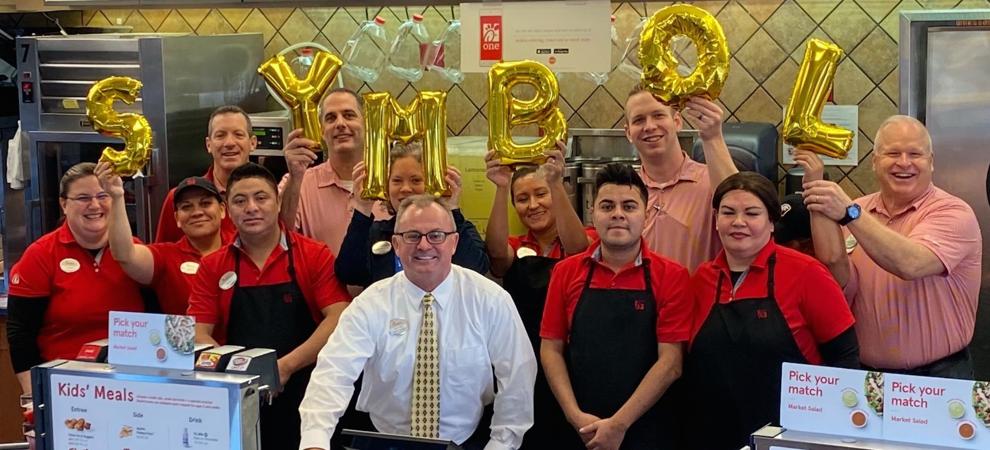 Staff members of the Bryant Chick-fil-A celebrated an incredible milestone on Monday when they hit a sales goal for the year 2019 that earned them the honor of being named a Symbol of Success store.
Guy Parker, who is the owner and operator of the Reynolds Road location and a retired U.S. Air Force colonel, said he is extremely proud of the team's accomplishment.
"The biggest part of of what we have to do (to reach this goal) is really plan at the beginning of the year that this is something we wanted to do," Parker said.
The honor is not one that is achieved often, but the Bryant location has earned the honor twice under Parker's ownership. In addition to the current achievement, the store also earned the honor in 2012.
"A lot of operators in Chick-fil-A go their whole career without making it to this award level," Parker said. "Some of them have been in over 40 years and never achieved this award.
The staff earned the award on Monday at 9:28 a.m.
"The staff that we have is just remarkable to say the least," Parker said. "Our leadership team could not have done it without them and their motivation to get this done."
To celebrate the award, the staff will be treated to an afternoon of food, games and fellowship offsite in January on a Sunday afternoon when the restaurant is closed.
Parker said the support of the patrons who visit the Saline County location has meant so much to him and the staff of the restaurant.
"I couldn't have done this without the help of my wife (Shannon) who is also involved in the business," Parker said. "She is our accountant and we are blessed beyond belief to be in Saline County with such a devoted Chick-fil-A fan base."
With both restaurant patrons and staff members in mind, Parker said the Bryant location will be temporarily closed in order for the store to undergo a "reinvention" early in the new year. See an upcoming edition of The Saline Courier for more details.
"We are just so blessed and thankful for our Saline County fans," Parker said. "We just can't say enough about them and we want to say thank you to them."
Parker also added that he is glad that the restaurant has been able to be involved in city and county events and organizations such as churches, schools and the Boys and Girls Clubs.
"We try to partner with and say yes to anyone who asks for help," Parker said.
Overall, Parker said that is just thankful for the opportunity to serve.
"It was my honor to serve in the United States Air Force for 25 years, and now it's my honor to serve smiles and great tasting chicken to Saline County," Parker said.