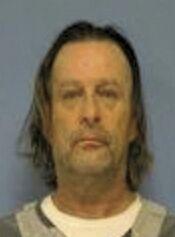 A registered sex offender has been charged after being discovered on the campus of East End Middle School.
Robert McBrier, 55, of Hensley, has been charged with being a registered sex offender on a school campus, a class D felony.
According to court documents, the East End Middle School principal, Lupe Pena de Martinez, contacted the Saline County Sheriff's Office on Jan. 25 in reference to the possibility of a registered sex offender being on campus.
Martinez stated that she had given a tour of the campus on Jan. 22 to the mother of a current student and the mother's romantic partner, identified as McBrier. After giving the tour, Martinez leaned that McBrier was a level three registered sex offender and as such, is not allowed on a school campus, unless a child of his own is enrolled. Furthermore, a registered sex offender with a child enrolled would also need to be escorted on and off campus.
Deputies were advised that Martinez had another meeting scheduled with the mother of the student on Jan. 25 and that she was afraid McBrier would also be present. Deputies told Martinez that they would be present in the front lobby at that time and would make contact with McBrier should he attempt to enter the building.
Both the mother and McBrier returned to the campus for the meeting where deputies made contact with both individuals. When asked about his business on campus, McBrier stated that he was there for a meeting about his girlfriend's son. When asked if he had any children enrolled at the school, McBrier stated "no." He also confirmed to deputies that he was a level three registered sex offender. He was placed under arrest at that time.
McBrier was previously convicted in 2018 of two counts of second-degree sexual assault, a class B felony, in a case related to the sexual assault of a juvenile victim.
McBrier was released on Jan. 27 on a $1,000 bond. He scheduled to appear in Saline County Circuit Court at 10 a.m. on May 17.