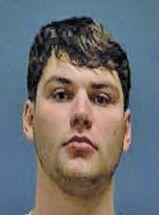 A Benton man has been formally charged with failure to register as a sex offender or report an address change, a Class C felony.
Austin Jo Alexander Watson, 24, is currently in custody at the Saline County Detention Center on a 90 day parole hold.
As previously reported by The Saline Courier in March, Saline County Sheriff's Office deputies responded to an address on Peeler Bend Rd. concerning a report.
Watson was located at the residence with the help of Benton Police Departments officers along with probation and parole officers.
Upon being taken into custody at that time, officers discovered that Watson had harmed himself and reportedly "stated he wanted to die," according to a press release from the SCSO in March.
He was transported to Saline Memorial Hospital for treatment, and according to the SCSO, a warrant would be sought when Watson was released from the hospital. Watson was taken into custody on May 13 and formal charges filed on Friday.
According to court documents, a report was filed on March 11 concerning the fact that Watson was not in compliance as a sex offender. The individual who reported Watson told Watson's parole officer that Watson had been drinking along with other activities and that Watson had become upset and killed the individual's dog, but that they could not prove it.
The affidavit related to Watson's failure to register charge stated that Watson was living at an address on Rio Grande, which is the same address Watson had previously been arrested at for living there when he was not supposed to be due to his sex offender status.
The individual who reported Watson told law enforcement that Watson only comes by the address where is supposed to live "every once in a while in case the police stop by," according to the affidavit.
The Arkansas Parole and Probation Office advised that Watson's ankle monitor showed he was at the Rio Grande address at the time the individual reported Watson for not being in compliance.
While making the report at the SCSO, the individual received phone calls from Watson's family members and told the family members that they were at the SCSO. Watson's ankle monitor then showed his location had changed to the Peeler Bend Rd. address where he was supposed to be living.
Watson was discovered at the Peeler Bend address with his injuries at that time.
According to court records, Watson was charged in January for failure to register as a sex offender in relation to the discovery in September that he was living at the same Rio Grande address which is located behind Caldwell Elementary. He is scheduled to appear in Saline County Circuit court on that charge on Aug. 9.
Court documents show that Watson's original offense occurred in 2015 and he was sentenced in 2016.
According to the sentencing order, Watson was to register as a sex offender after a negotiated guilty plea to second-degree sexual assault, a class B felony, and theft of property, a class A misdemeanor. He was sentenced to six years probation, 120 days in jail with credit for time served, complete a sex offender assessment, pay all court costs and fees, submit to a DNA test, have no unsupervised contact with any juvenile females under the age of 18 and no contact with the victim.
Watson was 18 when he entered into the plea deal for the sexual assault and theft charges in 2016.
According to court records, Watson met with the juvenile victim at her residence after school to go riding around. The victim stated that she wasn't feeling well so Watson went with her to the Dollar General Store to purchase cold medicine.
They continued to ride around on Aloca property off of Bauxite Cut Off Road where Watson encouraged her to take 16 pills of the cold medicine. The victim said when she began to feel the effects of the medicine, she stopped and parked her vehicle and she and Watson began talking.
When Watson asked her to get in the back seat with him, the victim refused and he began touching her inappropriately. The victim also began having a panic attack and asked to call a relative for help, but Watson said, "No, I don't want you to get into trouble." The victim then had a black out period and did not remember what occurred from then on until she arrived home and was on the way to the hospital. She notified both a relative and a doctor about the sexual assault, but did not know if she had been raped.