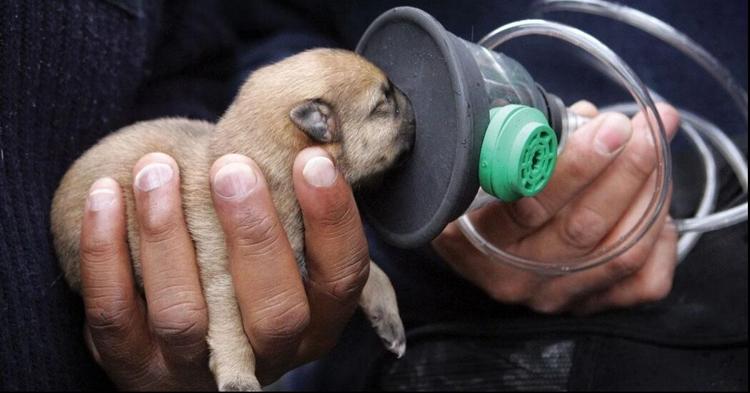 The Shannon Hills Fire Department has received a donation that will help firefighters save beloved family pets and other animals in emergency situations.
The Project Breathe program is a pet oxygen mask donation program created by Invisible Fence. The company, known for its line of electric dog fences, created the program to help equip fire departments with the emergency tools needed to resuscitate and save pets.
The SHFD received three sets of oxygen masks, one for each emergency vehicle, which will be used to save animals that are having respiratory problems due to smoke inhalation.
"Many years ago, we responded to a fire where there were animals in the house," said SHFD Capt. Kevin Riedinger. "We had no way of administering oxygen to the animals."
Although situations like the one the department faced do not happen frequently, Riedinger said that when the department began to discuss ways to improve. The suggestion was made to look into acquiring oxygen masks for pets. In researching the subject, the SHFD found out about Project Breathe.
"They donated a couple of oxygen masks to us," Riedinger said. "As our district is growing a bit, we contacted them again for a few more masks for our additional trucks and they provided those."
According to Invisible Fence, although the U.S. Fire Administration does not keep an official statistic, industry sources estimate 40,000 to 150,000 pets die each year in fires with most succumbing to smoke inhalation. In most states, emergency responders lack the equipment to resuscitate and save pets.
Each donated kit contains a small, medium and large mask. Since the program's inception, more than 25,170 masks have been donated and at least 201 pets have been saved from fire and smoke inhalation.
The SHFD is continuing to look into other ways to improve their department. Some of their other needs include thermal imaging cameras and AEDs.
"The thing we need most is volunteers," Riedinger said. "People who are willing to help out not only our community, but people in surrounding communities when they need it."
With the Project Breathe donation, the department is grateful that it has another way to keep all members of the family, including the four-legged kind, a little safer.
"We would like to thank the Invisible Fence brand and Project Breathe for donating this equipment to our department," said Assistant Chief T. Meyers in a social media post. "Just one of the many ways your fire department is dedicated to serving you and your fur babies."