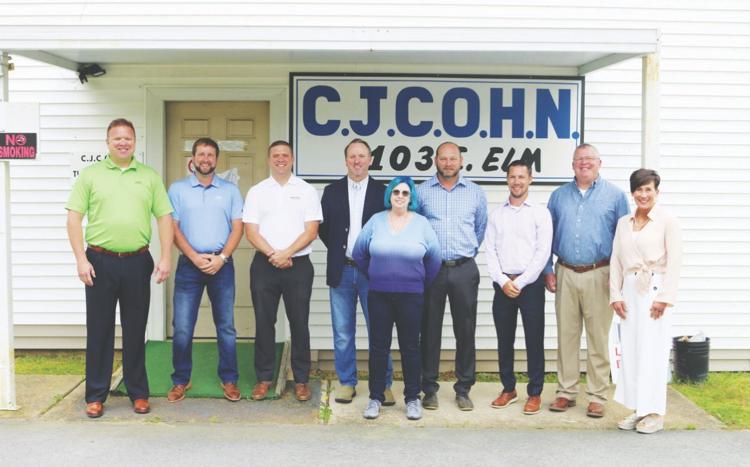 Saline County Shelter Insurance agents came together to donate $6,000 to the Church's Joint Council on Human Needs recently.
"They do a lot of good in the community in the name of Jesus," said Brett Polk, the agent organizing the group's giving.
Polk said CJCOHN has not only been helping during the COVID-19 pandemic, but all year. The agents wanted to help because they know right now many are facing food shortages and CJCOHN is able to help with that need.
Polk said Shelter's corporate foundation gave each agent $1,000 to give to a nonprofit organization making a difference. He spoke with the others in Saline County about pooling their funds to give to CJCOHN.
The organization received $6,000 total.
Pam Ray, food director for CJCOHN, told the group of agents on a recent visit that each family gets one box of food each week. The organization gives out 150 boxes a week on average, plus senior supplement for area seniors. The boxes include food basics plus toilet paper and some personal hygiene items, based on what they are able to get each week.
During the pandemic, families drive up, tell a volunteer how many are in their household and then drive forward  to receive their box and drive out. Ray said volunteers wear masks.
"(The donation) means we can buy a lot more food," Ray said, adding CJCOHN has recently run out of much of its stock.
Due to COVID-19, CJCOHN was not been able to get food from the yearly Postal Workers Food Drive or hold its pancake fundraiser. On top of that, CJCOHN did not get as many Christmas donations as usual. This all has left the organization in need of more help than before from the community.
The pandemic has also left them in need of more volunteers. Ray said many of the volunteers are older and at risk from the virus.
"We don't want anyone getting sick volunteering at CJCOHN," she said.
Ray said the mission of CJCOHN is in its name, to meet human needs. The organization focuses on food and clothing, though it is not accepting clothing donations at the moment. She is looking for food donations, be that of items or funds.
Anyone wishing to volunteer with the organization can stop by its location at 103 Elm St. in Benton, on Tuesdays, which is when the volunteers pack boxes.
Anyone wishing to donate funds can send a check to P.O. Box 1146, Benton, AR 72018.
"We appreciate the community recognizing that we help our neighbors, their neighbors," Ray said.