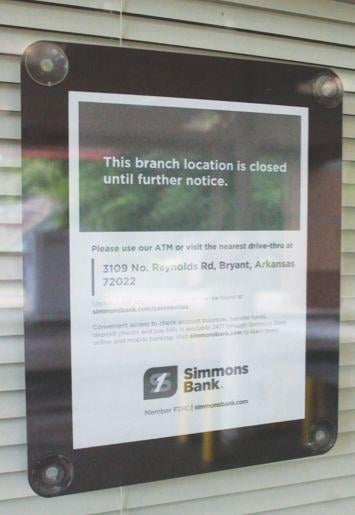 Simmons Bank in Benton has closed its doors indefinitely due to COVID-19-related exposure, a spokesperson confirmed to The Saline Courier today.
Sarah Shafer said the branch closed Tuesday afternoon and hopes to reopen as soon as possible.
"In the meantime, we're following all CDC guidelines to make sure that we reopen under the safest possible circumstances for associates and customers," Shafer said. "For example, we're having all associates at this location quarantine out of abundance of caution and are having the branch cleaned with special disinfecting equipment. ATM and night depository services are still being offered at this location. We also hope that customers will find our Bryant branch convenient during this time, which offers full services and is just 10 minutes up the road from our Benton location."
The Benton branch is located at 1323 Military Road.
The Bryant branch remains open at 3109 Reynolds Rd. and can be reached via phone at 501-847-6317.