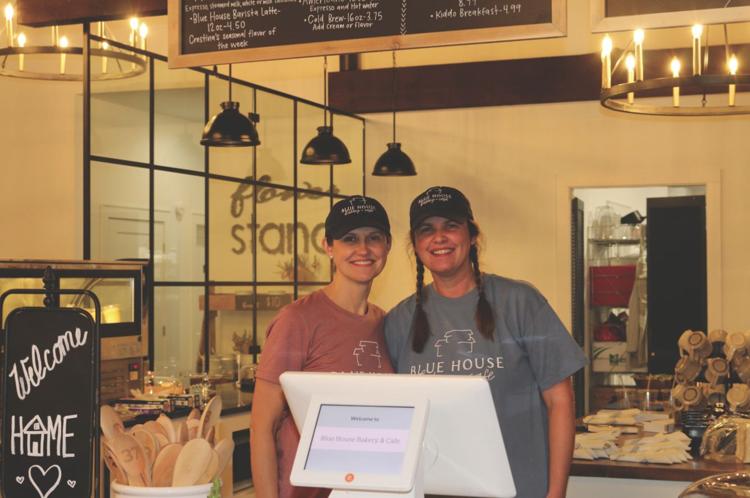 A pair of sisters have made their dream come true with the opening of the Blue House Bakery and Cafe in Bryant. 
"We have always talked about wanting our own bakery and little cafe," said Jill Averitt, who co-owns the new restaurant with Joy Billson.
Blue House which opened Oct. 23 serves breakfast, lunch, coffee and pastries. 
Since opening, the sisters have been overwhelmed by the community's response. 
"They've blown us away," Billson said.
In the first few weeks, the store ran out of specials most days due to so many people wanting to try it. Averitt said the cafe already has regulars. 
"We did not expect this type of response," she said. 
The sisters began doing catering together 10 years ago, mostly lunch and dinner offerings. The dream was always to have a brick and mortar store of their own. 
Averitt said at the beginning of the year, they realized they were meant to do it this year. 
They looked at a few locations before settling on the space in the shopping center on Arkansas 5 in Bryant. 
When the sisters started trying to decide what to call the bakery and cafe, they knew they wanted it to be a name that meant something. Averitt asked Billson when she first fell in love with cooking. Her answer was the blue house. 
Averitt explained that growing up, they always referred to where they lived by the color of the house. After their father built the blue house, they moved in when Billson was 10 years old and Averitt was 8. They lost that home to a fire a few years later. 
"Everything I have learned, I have learned from Joy," Averitt said, adding she taught her to cook, bake and receive people in her home. 
Home is what the pair want to make the restaurant feel like. 
"We look at it as a home away from home where people can just come in and get a meal," Billson said. "We want everyone to feel loved and cared for like we would our family." 
They want the cafe to be a place where people want to hang out. Their goal is for it to be warm and inviting.
From the retail space offering gifts to the flower bouquets for sale in the flower cart, they wanted to make it a place they enjoy.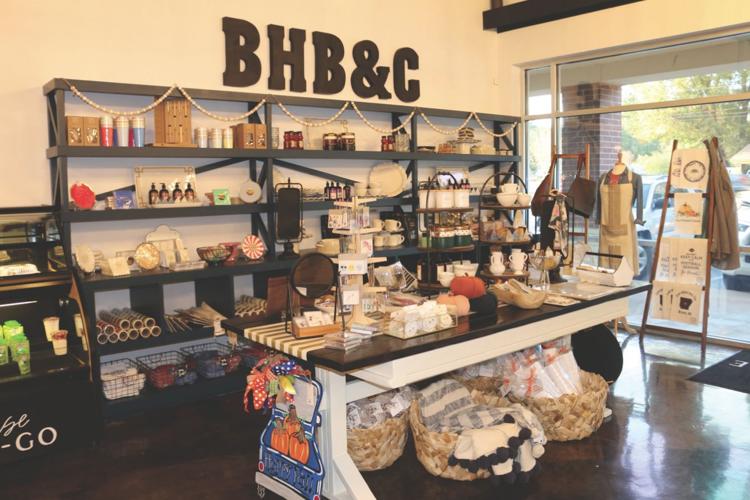 "I feel like there are pieces of me and Joy throughout the space," Averitt said. 
Their sister-in-law Krystal Weaver is responsible for much of the design that pulled the place together, they said. 
"She is very talented," Averitt said. "We are lucky to have her in the family."
Blue House offers the foods the sisters enjoy and like to make for their own families. 
"It's nothing fancy. Just good home cooking," Billson said. 
The food includes soups, sandwiches, salads, pastries and more. On the wall near the counter, the sisters have their grandmother's recipe card for chocolate gravy blown displayed as a mural. The gravy is available on Saturdays.  
Different house plates are available as the daily specials. They are working to establish a schedule of specials for the customers who want to know what days they can get different dishes. 
Averitt said some people get The Big Man breakfast and are confused because they expect it to be a huge meal. It is actually a meal of the things their dad eats for breakfast. Instead of "Dad," their brothers affectionately call their father "Big Man."
From 2 to 5 p.m. each day the kitchen is closed, but the cafe still offers pastries, coffees along with grab-and-go options, usually including whatever that day's house plate special was. 
They can make special orders, but they need 24-hours notice. With the holidays coming up, they will be able to make pre-ordered sides and cinnamon rolls on Saturdays. 
The store is located in Bryant because that is where Billson lives. Averitt actually lives in Atlanta, but has been in the city for months getting the cafe going. 
"She loves Bryant, and I have come to love Bryant," Averitt said. 
The cafe is truly a family affair. Billson's husband, Gerry, and son, Pryce, both work alongside them, along with her daughter-in-law Bethany. Their mom, Belinda Weaver, makes the biscuits. 
Blue House is located at 4000 Arkansas 5 N., Suite 3. It is open Tuesday through Friday for breakfast from 7 to 10:30 a.m. The kitchen is closed 10:30 to 11 a.m. to switch over to lunch. Lunch is 11 a.m. to 2 p.m.  Saturdays the cafe is open 7 a.m. to 1 p.m. for breakfast and brunch. 
The number is 501-943-7372. Daily specials are posted on Facebook and Instagram.