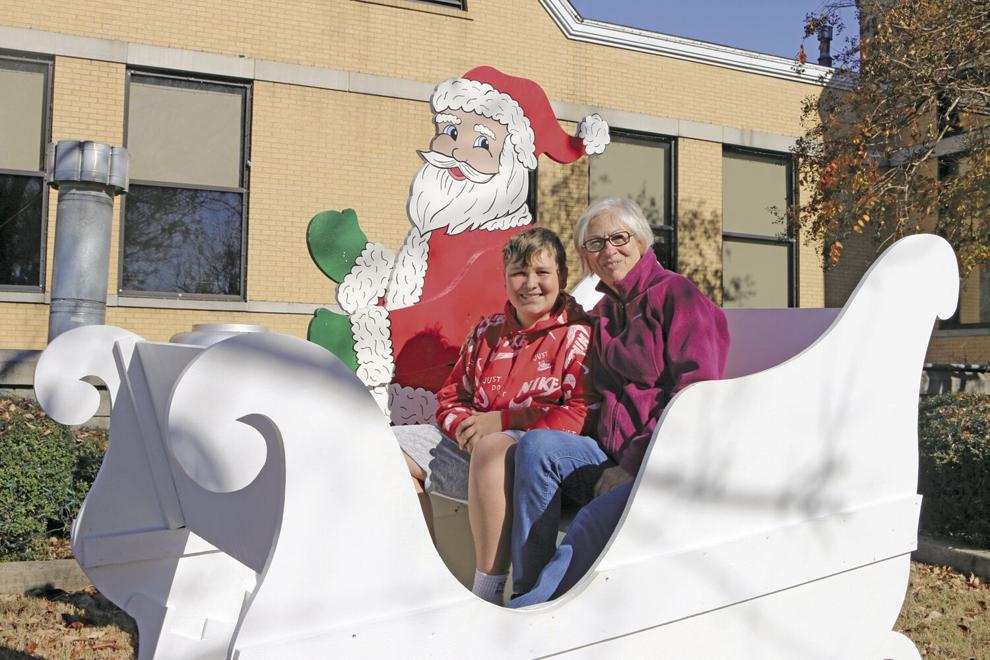 From wreath making with Saline County Library to Christmas craft making with Mayor Tom Farmer, the city of Benton has the schedule filled with holiday festivities for December. 
From Dec. 3 to Dec. 21, the city, in partnership with local groups and organizers, has an event planned for almost every day at the Farmer's Market in Downtown Benton. 
The festivities will kick off on Dec. 3 with the annual lighting of the Christmas Tree and Saline County Courthouse in Downtown Benton. 
In addition to the Christmas Tree and Courthouse being lit, because of the Downtown Lighting Project led by Benton's Advertising and Promotion Commission, the entirety of Downtown Benton will be lit up for the season. On Dec. 3 at 6 p.m. the festivities will start at the Farmer's Market and at 6:30 they will flip the switches to turn the lights on. This event is free and open to the public. 
The Ice Skating Rink, which is sponsored by Everett Buick GMC, will open on Dec. 4. To sign up for the Ice Skating rink, online registration is required. It is $3 for general admission and $150 to schedule a group or private reservations for one and a half hours. To sign up just visit https://apm.activecommunities.com/bentonrec/Home. It will be open through Dec. 31.
"That Monday we have our Christmas Parade that starts at 6 p.m and Santa Clause will be at the Courthouse from 6 p.m. to 8 p.m. in the Gazebo," said Toby Hirscheider, executive assistant to Mayor Farmer. 
The Saline County Christmas Parade will begin on Market Street at C.W. Lewis stadium parking lot, it will then turn right onto North Street and right on Main Street. Santa and Mrs. Claus will be at the parade and will get off at the Courthouse on Main Street to greet children, to take pictures and listen to their Christmas wishes. The event is being organized by the Downtown Benton Partnership. The contacts for the event are Wanda Posey, who can be reached at 501-371-9199, and Jennifer Donnor, who can be reached at 501-840-6979. 
The Benton Fire Department will be serving s'mores and hot dogs at the Farmer's Market on Dec. 7 starting at 7 p.m. This event is also free and open to the public.
Dec. 8 will be Storytime with the Saline County Library at 4 p.m. This event is also with the Farmer's Market. 
The following day the Boys & Girls Club of Saline County will be hosting a "How the Grinch Stole Christmas" event at 6:30 p.m.
"The grinch will be there," added Hirscheider. 
Santa Claus will also be at the Courthouse that night from 6 p.m. to 8 p.m.
Dec. 10, Santa will be at Courthouse again and this will be character night. Other characters from movies and stories will be there for all to take pictures with.
Dec. 11, will be at the Mistletoe Market from 10 a.m. to 3 p.m.
"We have right around 40 vendors that make all kinds of craft, jewelry, woodworks, you name it," said Hirscheider. 
On the same day, Midtowne Church will be having their "Family Fun Zone" at the Farmer's Market with inflatables and activities for children while the parents can enjoy the Mistletoe Market. 
"There will be a live nativity scene, hot dogs, hot cocoa, popcorn, crafts, bounce houses. They are going to have a lot of activities there," Hirscheider added.
The next day Dec. 13 will be Christmas Craft Making with Mayor Farmer. This event will also be at the Farmer's Market. The plan right now is to make gingerbread houses, but, according to Hirscheider, the craft could change. 
On, Dec. 14 Farmer will be accepting Letters to Santa at the Farmer's Market. There will be a special mailbox for kids to put their letters in to make sure the letters get to Santa Claus in time for Christmas. This mailbox ensures a "North Pole enchanted deliver." 
"Dec. 14 we have another storytime with the Saline County library, that is at 4 p.m," added Hirscheider. 
Dec. 16, the Civitan Cervices will be hosting Hot Cocoa and Ornament making at the Farmer's Market. Santa will also be at the Courthouse this night for special needs night from 6 p.m. to 8 p.m.
Dec. 18 will be a Baking Contest in partnership with MySaline.com.
On Dec. 20, Santa will be back at the Courthouse to take pictures from 6 p.m. to 8 p.m. and on Dec. 21 it will be hot Chocolate with the Central Arkansas Development Council.